AUTHOR
BY Luis Daniel Maldonado Fonken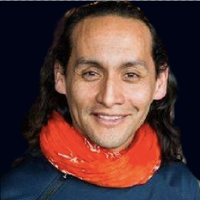 Researcher, Coach, Trainer. Developer of the Matrix-Q Assessment Tools, Matrix-Q Education Algorithms and Method, Holistic & Quantum Strategic Management Methods, Corporate Immunology Studies and Applications, PTƟ Primordial Mathematics, PTƟ Matrix-Q Artificial Intelligence, Nonary Thinking Tools & Methods and Gender Cocreativity & Business Inclusiveness System (business model)
---
ABSTRACT
The article introduces the 9 economies, and the Matrix-Q Bank Experiment. www.bank.matrix-q.com
For the understanding of the 9 economies, perception of added value, leadership, lineal thinking, binary thinking, nonary thinking, circular economy, systemic impact, global sustainable development and circular economy will be discussed.
The 9 economies are introduced from the perspective of innovation and skills. Approaching global sustainable development and SDG2030.
A new approach for CxO roles is suggested based on the 9 Economies. An example, case of the Economy Type 2, gender and male-female skills.
As a motivation for thinking process, the example on the periodic table of the elements, and the exponential increase of number of scientific discoveries and technology innovations.
---
UNDERSTANDING THE 9 ECONOMIES
Aiming for a global sustainable development and the advancement of a global civilization, lets review our idea and perception of economy.
Let's consider that for ay service there are three types of components associated: human, natural and artificial.
Which is the value generated and perceived in each of these three and how can it be organized ?
Which kind of innovation is necessary for a particular human cluster, geographical or economic region, organization, nation or individual ?
Which innovations support the enhancement of a sustainable global development and which ones, implemented in an incorrect time, jeopardize it, or when those innovations catalyze sustainable development and or inhibit or poison it ?
THE PERIODIC TABLE OF ELEMENTS
In 1789, Antoine Lavoisier published a list of 33 chemical elements, grouping them into gases, metals, nonmetals, and earths. Since then, up to our current times, new chemical elements have been discovered and added to the periodic table of elements. Currently organized by the IUPAC International Union for the Pure and Applied Chemistry, the up to dated periodic table of elements (2018, December) lists 118 elements. The UNESCO for example proclaimed the year 2019 as the International Year of the Periodic Table of Chemical Elements .
The Periodic Table of Chemical Elements is more than just a guide or catalogue of the entire known atoms in the universe; it is essentially a window on the universe, helping to expand our understanding of the world around us. Next year will mark the 150th anniversary of its creation by Russian scientist Dmitry Ivanovich Mendeleev. [URL][ 22 March 2018, UNESCO, 2019 is proclaimed the International Year of the Periodic Table of Chemical Elements, https://en.unesco.org/news/2019-proclaimed-international-year-periodic-table-chemical-elements ]

"The periodic table of chemical elements is one of the most important and influential achievements in modern science reflecting the essence not only of chemistry, but also of physics, biology and other disciplines. It is a unique tool, giving scientists the opportunity to predict the appearance and properties of elements on Earth and in the universe as a whole," said Jean-Paul Ngome-Abiaga, coordinator for the celebration of the Year at UNESCO. "This observance, including activities around the world, will underscore its importance for science, technology and sustainable human development."  [URL][ 22 March 2018, UNESCO, 2019 is proclaimed the International Year of the Periodic Table of Chemical Elements, https://en.unesco.org/news/2019-proclaimed-international-year-periodic-table-chemical-elements ]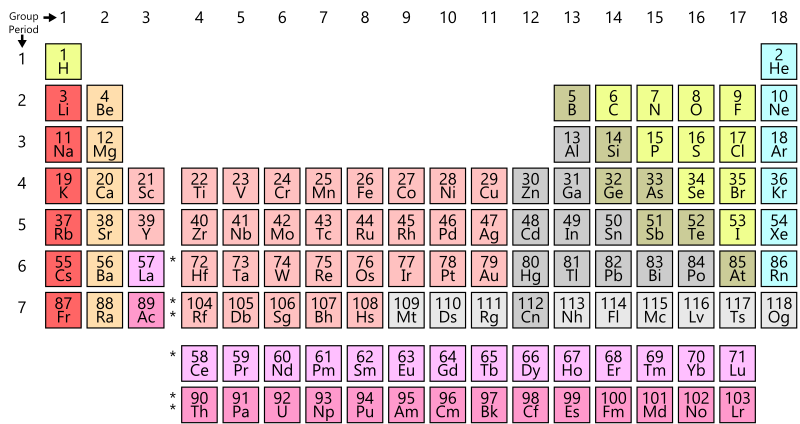 We just know that we do not know, but we will know
1789 : 33 chemical elements
2018: 118 chemical elements
The certainties and clarities of the past are unveiled by the explorers, visionaries and innovators of the future, in all the arts.
It is a common experience along the time line of human evolution, the development of process of a global culture and civilization, that with every new scientific discovery, "the world as we know it" changes. It may not change at the instant of a discovery,  at least not in our current times, but it may change gradually, while more organizations, researchers, policy makers, leaders, align to the discoveries, learn on their impact and implement their use.
Nowadays discoveries in all fields of science and technology by the minute, promise to change our destiny and story as human species. Some of those we would prefer to have an impact today in our lives as, for example in those related to health, would not only save lives but alleviate suffering. Others in field agriculture, nutrition, may alleviate hunger, and others in field education, gender, leadership and strategic think may alleviate the slow motion of sustainable development.
LINEAL THINKING, BINARY THINKING & CHANGE
Once a discovery has been fully accepted and implemented, may take years, decades or centuries to be changed or transformed by a new one in the same field of impact.
Democracy for example has changed along time, from the greek definition and instruments of  democracy to the modern culture democratic approaches, for example in nordic countries, benelux or switzerland.
The flexibility necessary for change, is correlated to the agility and ability of a human based organization to move, to be dynamic, innovative, adaptive and capable of mutation or self-transformation.
It has been common in the last century that after academic studies one would have the idea that knows relatively enough  of one field of expertise in order to launch statements and suggest guidance for organizations, people or governments, or research studies, as for the simple reason that "we decided to believe we know enough about the matter".
This mindset creates a lineal approach, in which only that we know exists and nothing else that we perceive is valid enough to be accounted, as we trust blindly in the foundation of our knowledge.
But in this new century, as scientist we accept the fact that we do not know enough, we  have learned a lot on the history of discoveries, and may not be fit enough to apply with the most advanced knowledge, that eventually have not yet arrived to us. As well, at the current increasing velocity in which new scientific discoveries are made, and shared, individuals will not be able any more to claim to know the best, or have the most advanced knowledge.
The speed of change, encourage us to go beyond the binary approach of knowing or not knowing. By realizing the complexity of the living systems we are part of, the matrix of them, their interrelations, correlations and implications, and the wonder of data generated daily by all living and cosmological systems, unless we start thinking, doing and creating outside of the box, we will certainly limit our future to the boxes we hold on as descriptions of truth or reality.
MATRIX-Q NONARY THINKING
In previous publications i have suggested the praxis of nonary thinking as mirror of the brain map, brain activity regions which sign the presence of skills or capacity of development of such or sensitivity for stimuli and training for their development. [ Matrix-Q Mathematics, Matrix-Q Algorithms, Correlations in fields of study:  Fibonacci, Neuroscience, Proto-A.I., Pure Mathematics, Education, Human Potential and Human Intelligence: The Quick Silver Edition https://gum.co/xdhhe][ Matrix-Q Multidisciplinary Research Magazine https://research.luisdanielmaldonadofonken.info/?s=nonary]
The researcher has successfully implemented nonary thinking into an education methodology, human skills, strategic management tools, gender studies and other fields of knowledge and innovation, as for example Artificial Intelligence models and economy.
Consider now that for each of these 9 fields, one set of skills, have evolved into a particular type of economy, as for the environmental needs and previous available knowledge, tools or technology and the culture or civilization stage of development, progress.
Which will mean [ See Matrix-Q Time Line of Human Evolution] that more evolved humans are, more complex tools, skills, knowledge are able to utilize.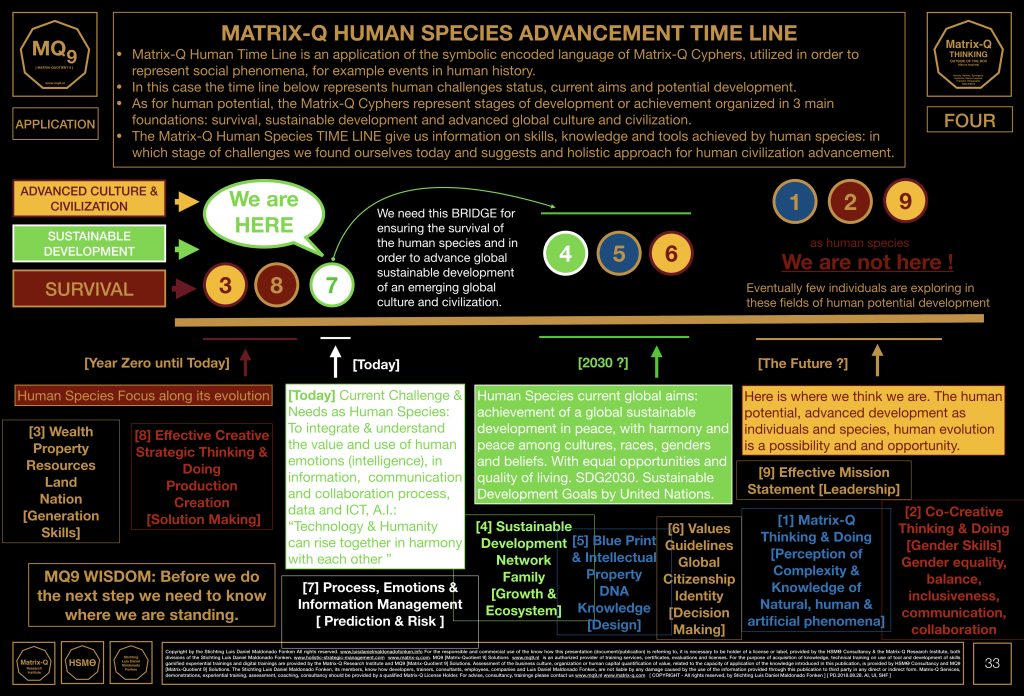 THE 9 ECONOMIES
According to Matrix-Q Nonary Thinking, there are 9 economies, 9 fields of economic activity in which value is generated.
But as for the legacy of a long almost stable set of beliefs and agreements on "what we know is that we know" in the time line of human history, also perceptions of reality has been inherited, which do not fit any more to the level of advancement and velocity in which new scientific discoveries and technologies appear, an increase of exponential nature.
If we have a reality that changes with an exponential curve, which is the legacy of the past accepted perceptions that limit our flexibility for change ?
The 9 economies will challenge again this flexibility and suggest you review and re-organize your perception on economy, added value, generation of value, bargain, transaction, and circular economy.
Economy: (From Greek οίκος – "household" and νęμoμαι – "manage")
Holistic Economy: (from Greek ὅλος holos "all, whole, entire") economy.
Primordial Economy: The Natural, original economy.
The 9 Economies are a nonary inclusive economy model, for which added value is organized in 9 classes or types of economy.
In order to differentiate economies, each economy utilizes a unique currency. It means there are 9 currencies.
The translation between currencies is being studies by the researcher, Matrix-Q Research Institute, by utilizing new mathematics system and algorithms design method, applied within an enclosed geometrical structure that enables a correlation with 9+ brain activity regions.
The Matrix-Q Mathematics and algorithms have been successfully utilized for the implementation of a new education methodology, strategic management tools, studies on human potential and human intelligence, gender, proto-A.I. artificial intelligence models,  human evolution models and sustainable development.
The Matrix-Q Research Institute hypothesis is that neuroscience and brain mapping studies serve as human enhancement as well as social, culture development and the achievement of a sustainable global advanced civilization.
The systemic application of the neuroscience knowledge needs of careful translation into the 9+ levels of impact [ Systemic Impact Levels Model by the Matrix-Q Research Institute ].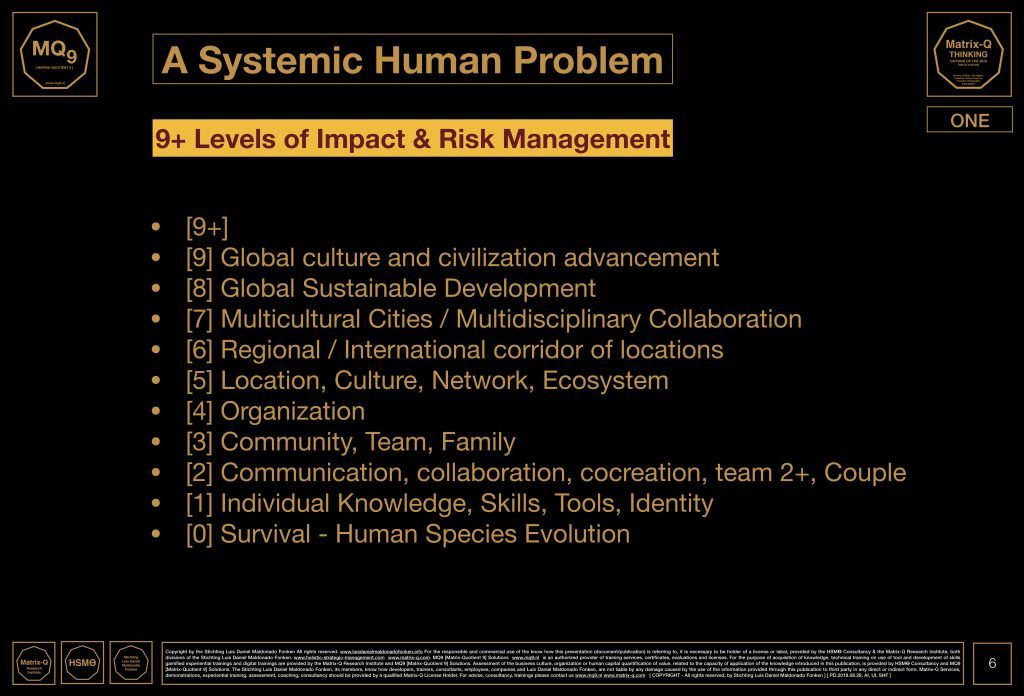 PERCEIVED ADDED VALUE
Innovation, skills, solutions may be valuable but if the economy they belong to is not perceived by the system hosting them, then bargain and transaction may never take place under fair conditions.
When a community only utilizes one single economy and the other 8 economies are invisible, the added value generated by individuals and organizations, communities, in the non visible 8 economies is not "perceived" but is part of the bargain and it is acquired; as a consequence an unfair economy evolves.
Perception is probably one of the pivotal challenges humanity needs to face in order to evolve and achieve earlier sustainable development stages.
The example of the periodic table of elements show us that in the year 1789 only 33 elements had recognized use and value. In 2018, 118 of them. 85 new elements with their respective variable value have been added since 1978, it means within 229 years.
Human creativity, skills and innovation can be count in higher numbers, how many of those are not perceived as valuable yet, and which kind of impact could they have in a close, immediate or far future ?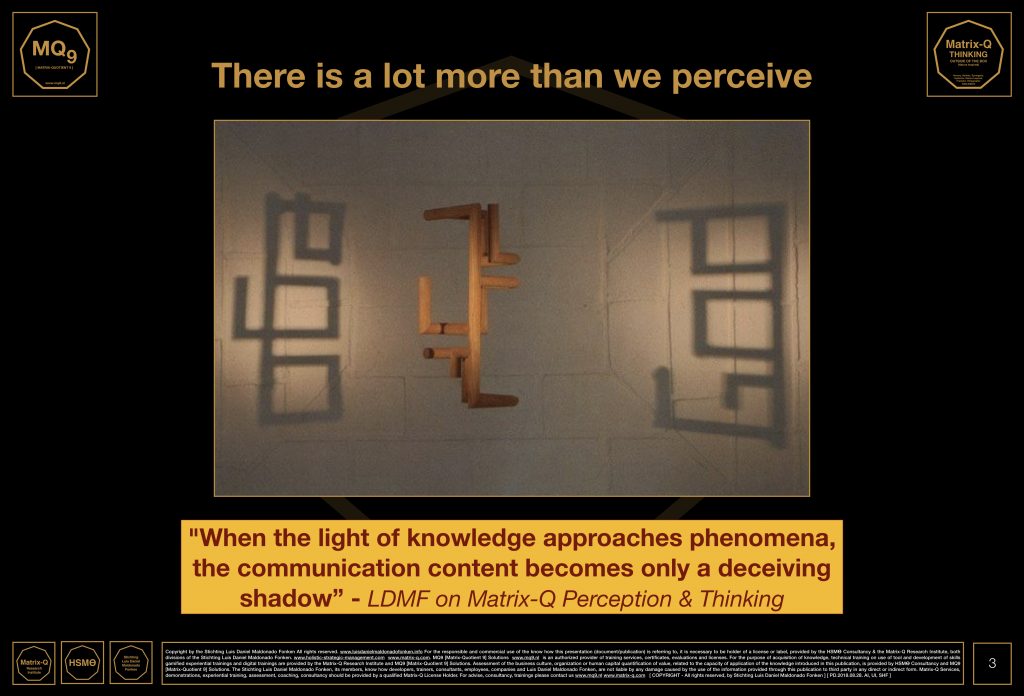 PERCEIVED VALUE & INNOVATION
The following 9 slides, suggest the fields of innovation, added value generation, that belong to the 9 economies, and encourage a review of the added value generated in these 9 fields. Is it correctly acknowledged by the current economic model ? by the perception patterns used by leadership, entrepreneurs and accountants ? Or the legacy of the "non sustainable" economy also limits our ability to perceive value? Which of these 9 fields of innovation is invisible for the reader in its value ?
CIRCULAR ECONOMY & THE 9 ECONOMIES
An application of the 9 Economies that is able to broad the perception of added value, bargain and exchange rate, is "the 9 economies applied to the circular economy" [ Visit Matrix-Q Think Tank on Circular Economy ]. [ Monitoring Framework on Circular Economy by the European Union https://eur-lex.europa.eu/legal-content/EN/TXT/?qid=1516265440535&uri=COM:2018:29:FIN ]
"A circular economy is a regenerative system in which resource input and waste, emission, and energy leakage are minimized by slowing, closing, and narrowing energy and material loops; this can be achieved through long-lasting design, maintenance, repair, reuse, remanufacturing, refurbishing, recycling, and upcycling. This is in contrast to a linear economy which is a 'take, make, dispose' model of production." [Wiki "Circular Economy"]

"A major argument in favour of the circular economy approach is that achieving a sustainable world does not require changes in the quality of life of consumers, nor does it require loss of revenues or extra costs for manufacturers and other economic agents. The argument is that circular business models can be as profitable as linear models and allow consumers to keep enjoying similar products and services" [Wiki "Circular Economy"]
The 'take, make, dispose' model of production is applied not only for commodities, but as well for humans and for innovation (I.P.). We may change a the algorithm from 'take, make, dispose' into 'take, use, dispose'  or 'take, use, own, dispose/store' or any similar.
Once the value has not been perceived or acknowledged properly along the bargain, transactions and time line outcome may end in private property of I.P. lost never used, or human capital that holds knowledge and experience, never transferred to new generations.
How can we extend the idea of circular economy to the 9 economies ? Currently (2018) circular economy is applied mostly to the "Economy type 3". Can we apply circular economy to the other 8 economies ?
The study of circular economy applied to the 9 Economies is being developed by the Matrix-Q Research Institute, with the intention to extend "the circular"  idea to the other economies.
SYSTEMIC IMPACT, INCLUSIVE SUSTAINABLE DEVELOPMENT & LEADERSHIP [CxO ROLES]
Another application of the 9 Economies consider 9+ levels of systemic impact, of the added value and the ability of leaders to achieve inclusive sustainable development.
How should a leader be trained in the perception of the 9 economies ?
The Time Line of the Human Evolution (see above), produced by the Matrix-Q Research Institute suggest 9 classes of skills, abilities to utilize tools, and apply  knowledge, as well approaches for the management of an organization and leadership.
The Matrix-Q Research Institute has developed an education method able to reduce the effort for learning and enhance the velocity of learning in 200%. By utilizing Matrix-Q Tools, human intelligence and skills are enhanced.
Applied to leadership, the holistic trainings on the 9 fields of skills, enable in the leaders the perception of added value in the 9 economies.
The following training program, for example, has been designed for SDG5 Leaders [SDG2030 Sustainable Development Goals, SDG5 Gender Equality & Women Empowerment] considering that the SDG5 refers to the Matrix-Q Economy Type 2, which is the able to generate collective intelligence and sustainable growth.
Suggesting that an organization, city, nation, should structure its leadership in 9 types of experts or leaders, each of them with validated knowledge, tools, skills and technology useful to manage the respective economy.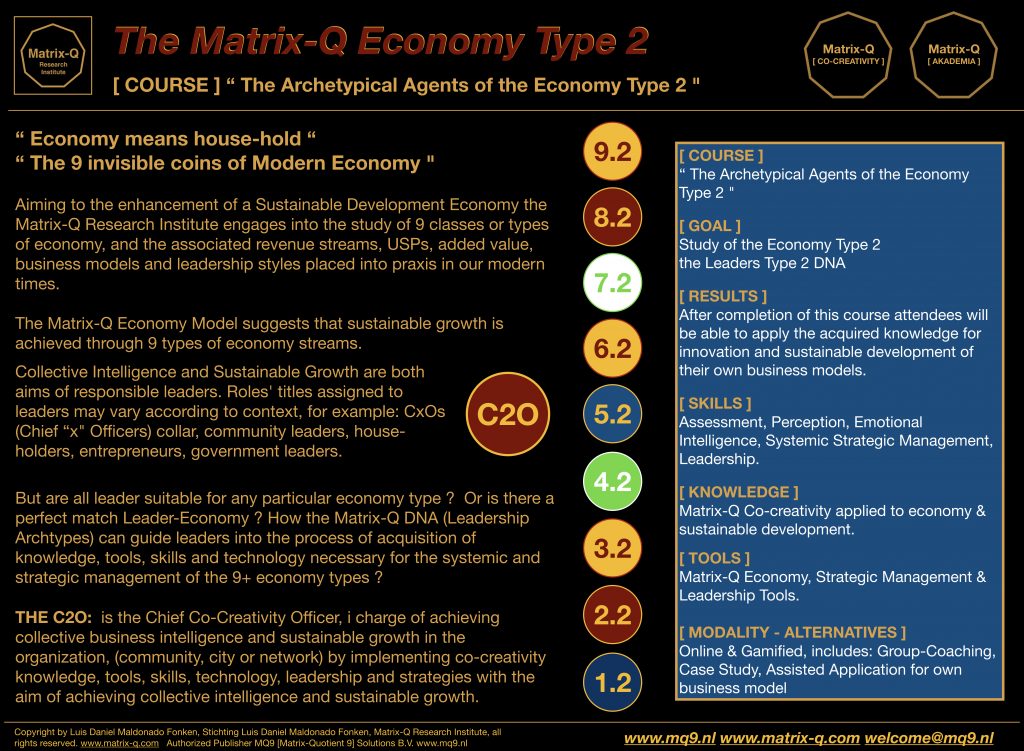 SYSTEMIC INCLUSIVE INVESTMENT & THE 9 ECONOMIES
As well systemic investment (9+ Levels of impact) considering the 9 economies, will encourage innovation and start ups, empower local and digital economies, create new job positions.
The 9 Economies are by definition inclusive, in which family, community, women and men, minorities, and individuals with disabilities are included, as for their ability to generate added value in at least one of the 9 economies.
WAGES CALCULATION EXAMPLES
THE MATRIX-Q BANK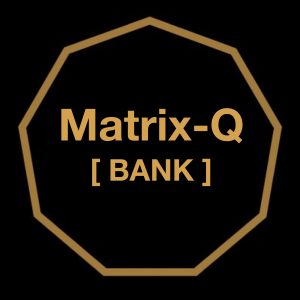 The Matrix-Q SDG Bank [Global Sustainable Development Goals Bank] www.bank.matrix-q.com  is an research experiment developed by the Matrix-Q Research Institute on "The 9 Economies" [ See "The 9 Economies in a Nutshell" – "The 9 Economies Extended" ]
The experiment has its geographical limits in the Netherlands, and Digital Limits into the Matrix-Q Digital Ecosystem.
At the first stages of this experiment, the Matrix-Q (Tokens, Credits, Digital Currency = Suns) will be released in the form of 9 categories [The 9 Economies Types], and for each of them a number of Matrix-Q Coin digital denominations [Matrix-Q Suns].
The Matrix-Q Suns will be utilized only for some pre-listed Matrix-Q services and goods, for which fees, prices, gift certificates, coupons or bonus, will be given in three kind of digital documents with a value described in:
1.) only EUR
2.) hybrid (EUR and Matrix-Q Suns) or
3.) only Matrix-Q Suns.
The list of products and services [Matrix-Q Market] that can be acquired with Matrix-Q Suns [x] Tokens is updated every season.
THE MATRIX-Q DIGITAL ECOSYSTEM
The Matrix-Q Digital Ecosystem is the digital network of customers, partners, associated, members, volunteers, interns and employees that have agreed to open / receive an account in the The Matrix-Q Digital Ecosystem Cloud Based Network.
EXPERIMENT STATUS
The current stage of development of the experiment defines the purpose, use, terms of services and conditions for users of the Matrix-Q Coin (9 Economies). Visit [URL]
Stage Alpha Definitions: The Matrix-Q Sun: It is not a legal tender. It is not an ICO. It is a token that operates as a gift card and can not be cashed out.
MATRIX-Q TOKENS RELEASE
The Matrix-Q Research Institute will release 1.552.000,00 MATRIX-Q SUNS (Tokens) the 21st December 2018, as part of an project dedicated to support SDG Projects, through acknowledging the added value generated in 9 types of economies. The 9 Economies Research Project publications and games will be made available as well as a e-forum, courses and support.
ADDITIONAL REFERENCES TO THE 9 ECONOMIES
Publications, e-Forum, Human Capital Value, Mathematics and Algorithms design method, Collective intelligence and sustainable growth methods, 9+ Levels of Systemic Impact, Leadership, Nature inspired business model system, games, and examples, announcements on release of Matrix-Q Tokens (suns), rules for purchase and eligibility for Matrix-Q Suns(Tokens), are available at the Matrix-Q Bank Website. www.bank.matrix-q.com