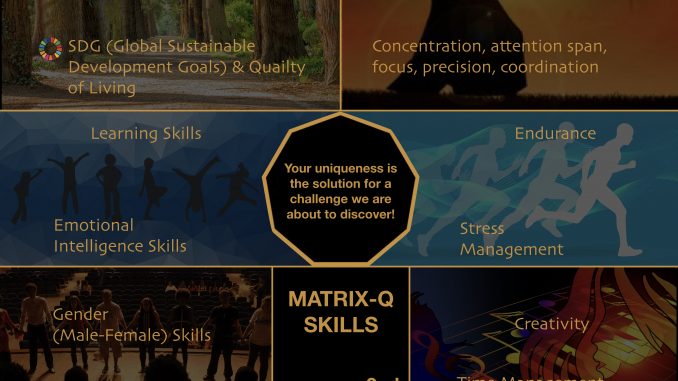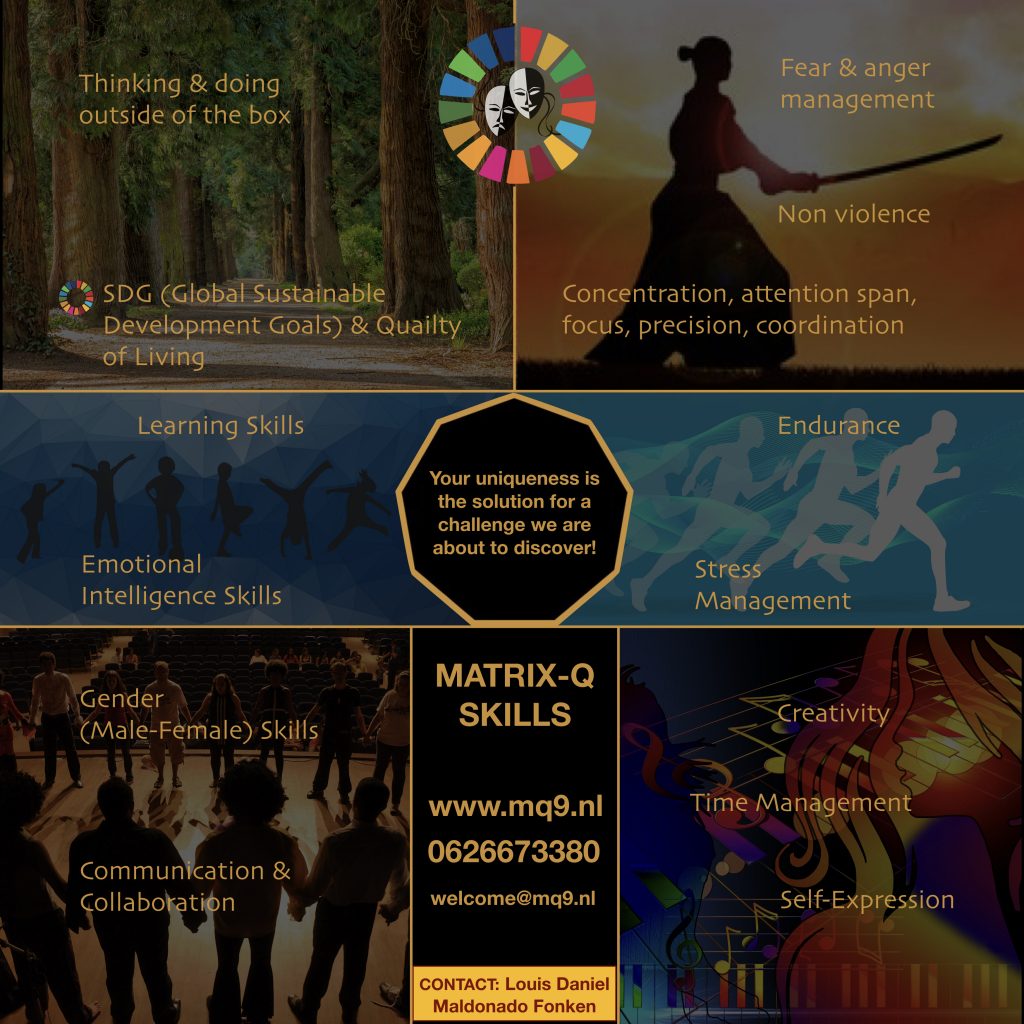 The Matrix-Q Skills Training Program
MQ9 [Matrix-Quotient 9] Solutions launches this week the Matrix-Q Skills Training Program.
A first F2F (face 2 face) training circle will start this September in Rhenen. (We expect a second circle to start in Utrecht soon). Any one is welcome to join this continuous training. Lessons are facilitated indoors, outdoors and online.
Organizations are welcome as well to book private training for their leaders, CxO or request a tailored made design, as for team building, for example.
www.MQ9.nl  wishes to bring by our method to trainers, coaches and educators. In particular we would like to welcome children educators. We see the need of supporting new generations in their journey from their foundation.
The courses are gamified and experiential.
Would you like to know more ? join a demonstrative experience along our open house days or request a private session for your organization. isit the MQ9 AKADEMIA http://akademia.mq9.nl/matrix-q-skills/
(Contact us : welcome@mq9.nl )
Technology and humanity can rise together and in harmony with each other. The bridge into the future needs to be done consciously in everyday life, by first acknowledging the human potential that still needs to be discovered and unleashed.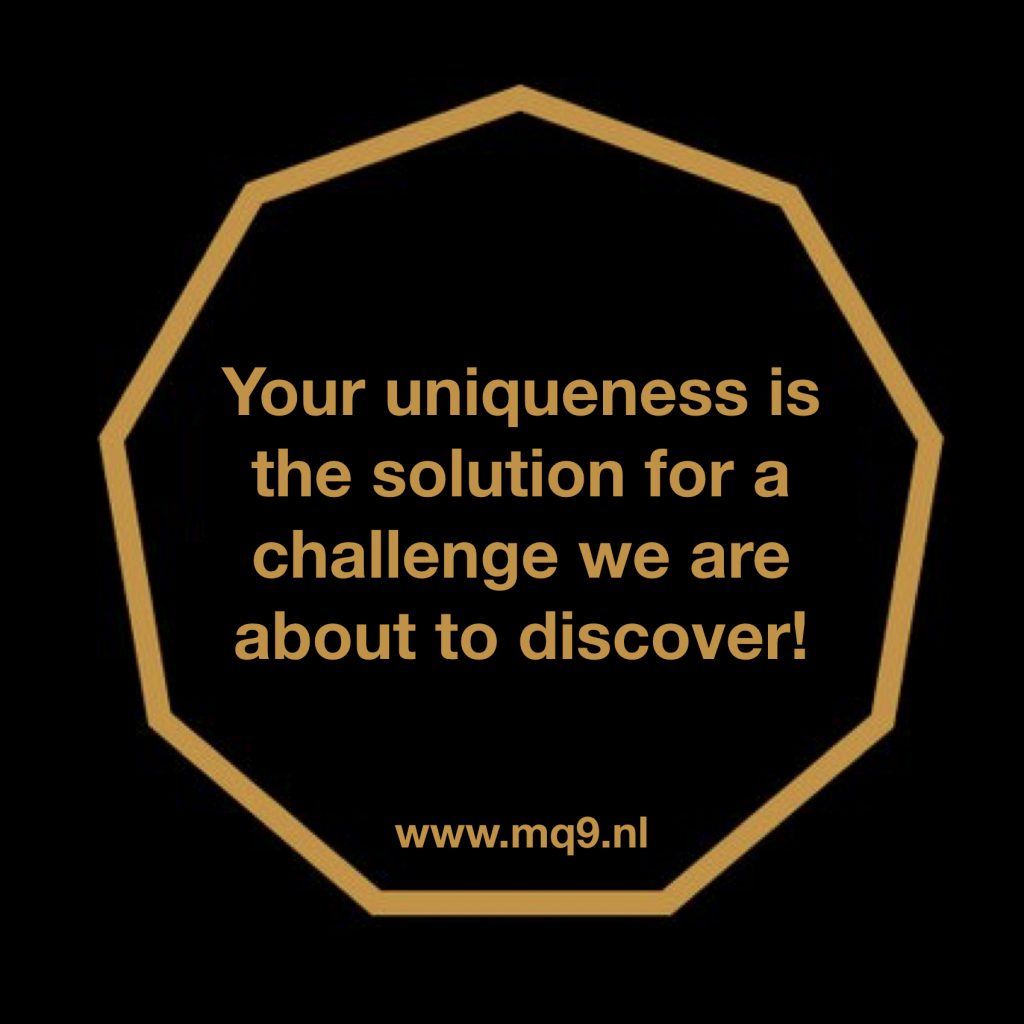 WHY MATRIX-Q SKILLS ?
MQ9 mission,  is to add value to the human capital, organizations and cultures. By providing Matrix-Q Knowledge, Tools and Skills with a humanist and responsible approach.
CXOs and Leaders play a key role in our future as well as parents. When both adults and children are capable of give value and develop their holistic skills, not only themselves but every one will receive a benefit on their learning efforts.
Once a child has learn to master own emotional intelligence skills, stress management and attention span, the adult in him/her will be more effective in any thing may decide to dare for in the future.
If children would start today to learn, how much time could they save as for their own future ?
Today leaders and CXOs invest time and resources into the development of these skills as for the results pay off with very high benefits for their own professional and family success, as well as for the one of their organizations and of the emerging global sustainable culture and civilization.
At the speed of development of our modern world, it will take only few years until our global scenario changes. Which is the kind of future we are creating today ? Our destination will change according to the knowledge, tools and skills we acquire.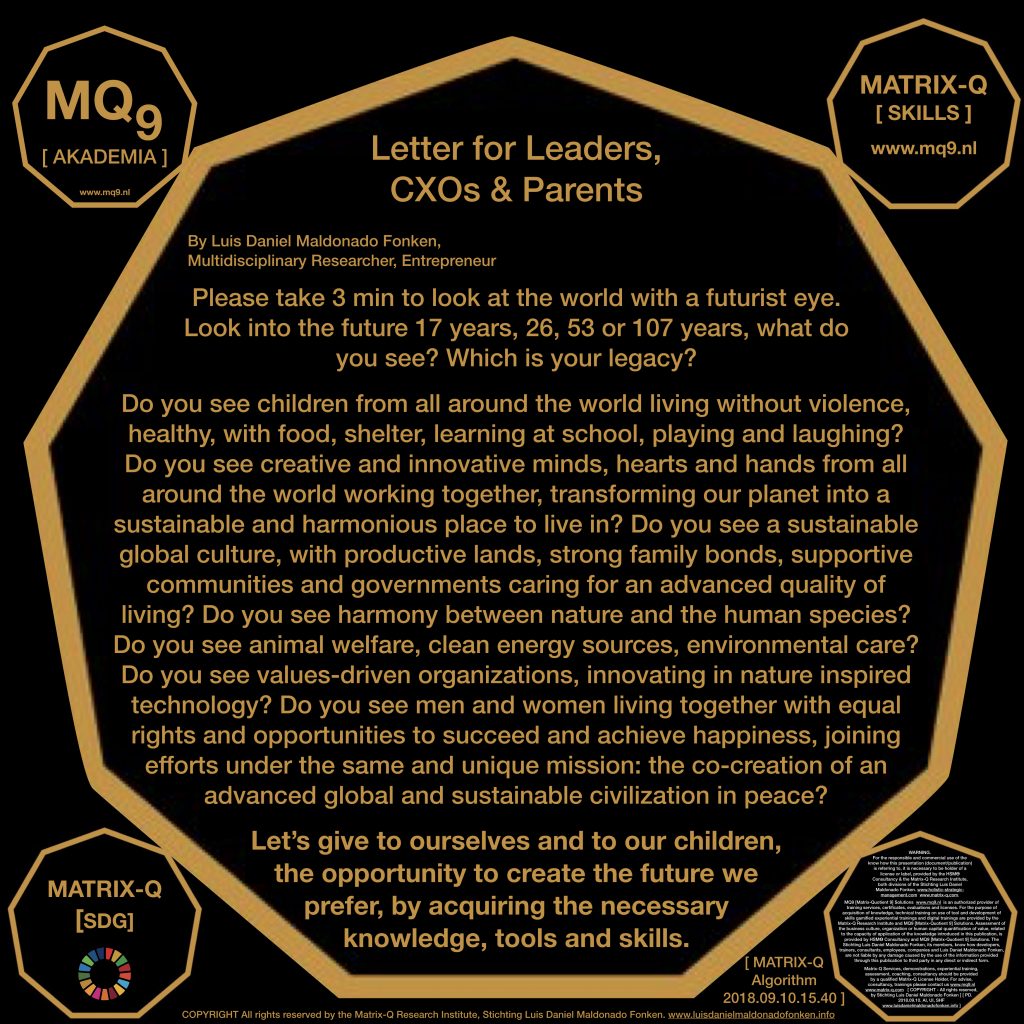 ADDING VALUE TO YOUR TIME, SKILLS & EXPERIENCES
Along life, professional life and private life, every one has acquired several skills, knowledge and tools that have been some how not connected directly with your current challenges and needs. But now all could change. Our students and users will be able to connect the dots and apply that seem to be not related to their challenges, as a resource.
MATRIX-Q DNA – The Matrix-Q Human Enhancement Program
Our method, adds value to leisure time, family, creativity and sports. Our assessment methods let us build up a Matrix-Q DNA Profile, and design a plan for enhancement of  the customer skills.
MATRIX-Q e-Tests
For advanced benefits, we suggest you take the Matrix-Q e-tests, that will help you identify the key skills you need at this stage of your development and capacity to work on. For example the new Matrix-Q e-Test Alpha 200 takes no more than 5 min and gives you great insight into your Matrix-Q DNA.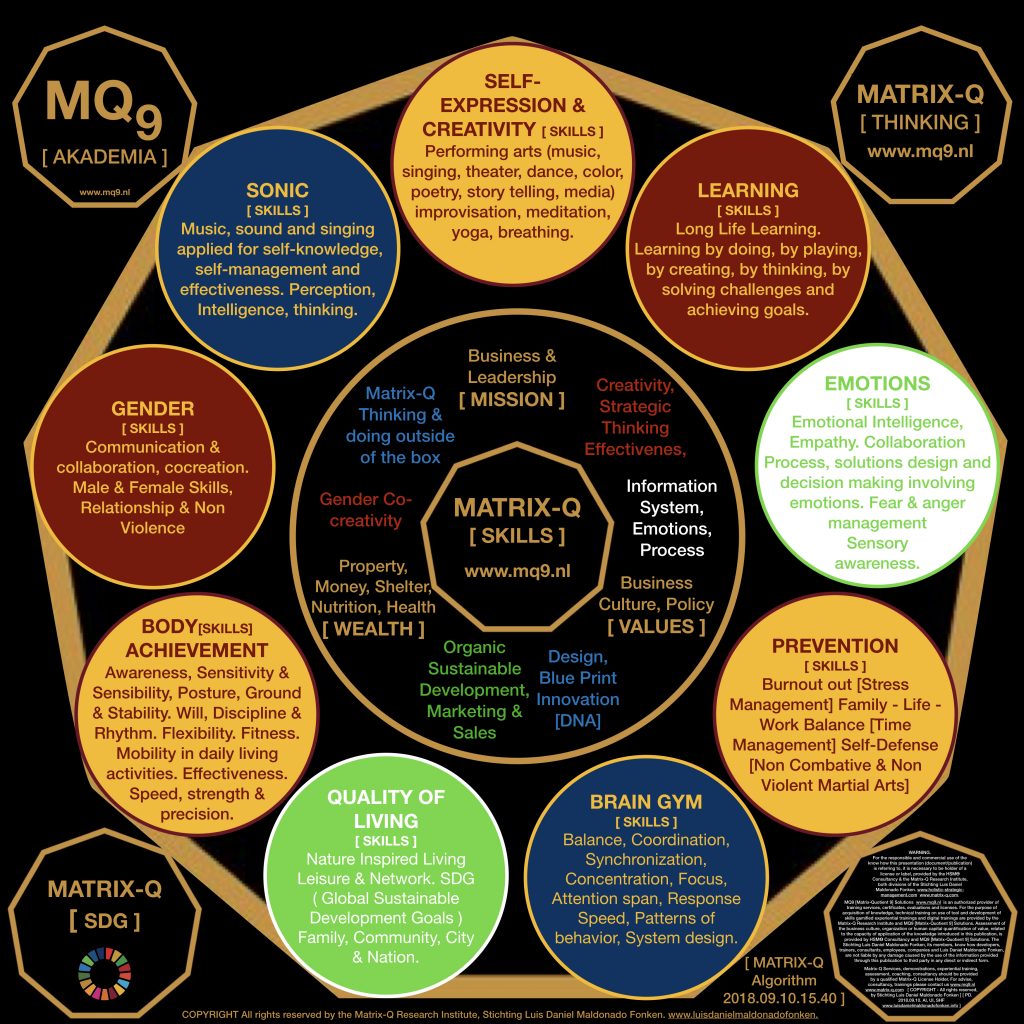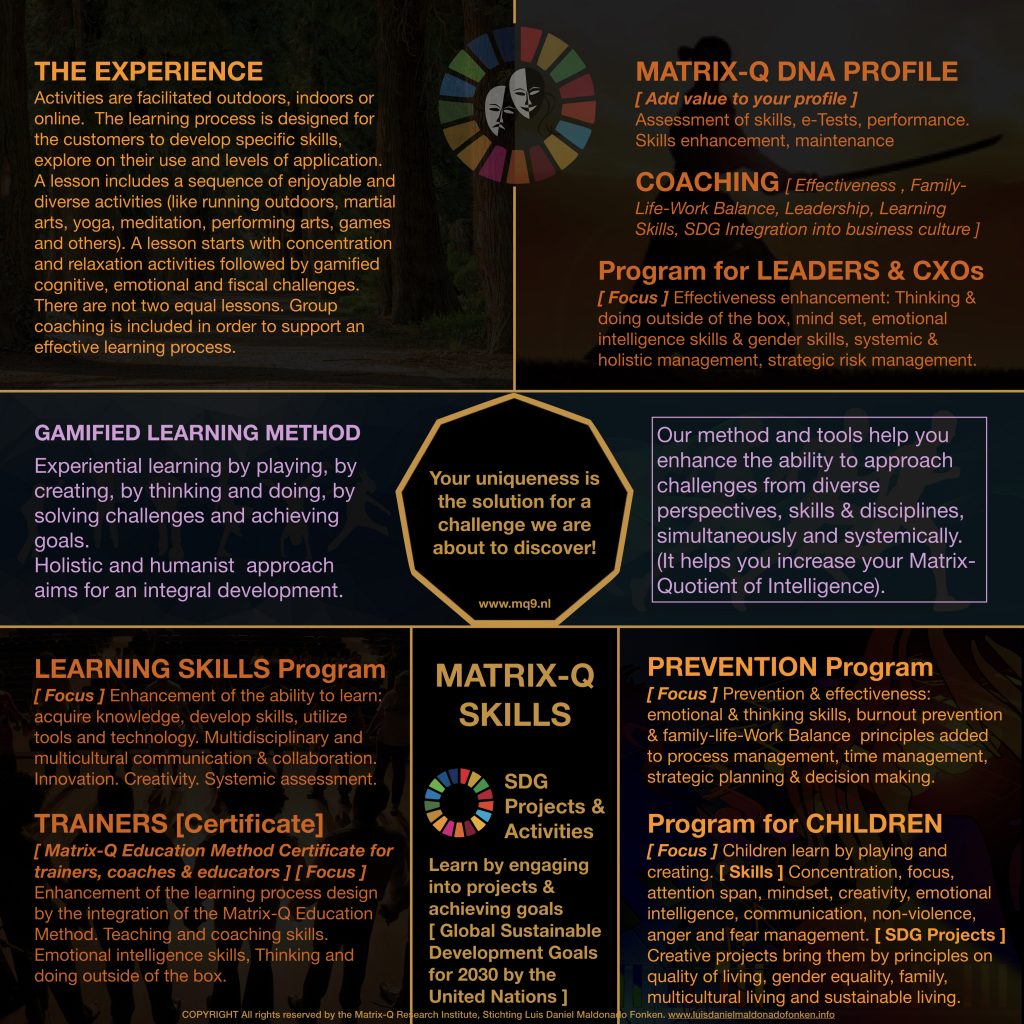 WHAT COMES NEXT…
In a close future an The Matrix-Q Thinking Tool app will become an useful complementary tool, which will help its users apply Matrix-Q Skills and in general do better use of own human capital resources for an effective management. With an e-learning program on hand the The Matrix-Q Thinking Tool app will help users be more effective at communication, collaboration, organization, planning and decision making tasks, , do assessment of risk and advance holistic and systemic strategic management.
The Matrix-Q Skills is directly related to the app. Attendees of our training program will have for sure an advantage regarding benefits and complexity of situations they will be able to solve helped by the app.
But the The Matrix-Q Thinking Tool app is fo everyone. Its users does not need any Matrix-Q Skills training to use it. Which means members of our network abroad, can acquire the app and enjoy its benefits from the first moment they use it. To start not only references to Matrix-Q Knowledge and Skills, self-learning guides will be associated to the app, but as well a set of Matrix-Q Algorithms that will help them achieve an holistic and systemic application of their knowledge, thinking and skills. (Would you like to collaborate ? contact us. http://crew.mq9.nl )
MATRIX-Q VR
A digital gamified version of the training program is planned to be in 2022 ready in VR version, and combined with online coaching. We are considering at the moment a joint collaboration strategy for this project and are already evaluating offers of potential partners with expertise in VR Production and Media. (Would you like to collaborate ? contact us. http://crew.mq9.nl )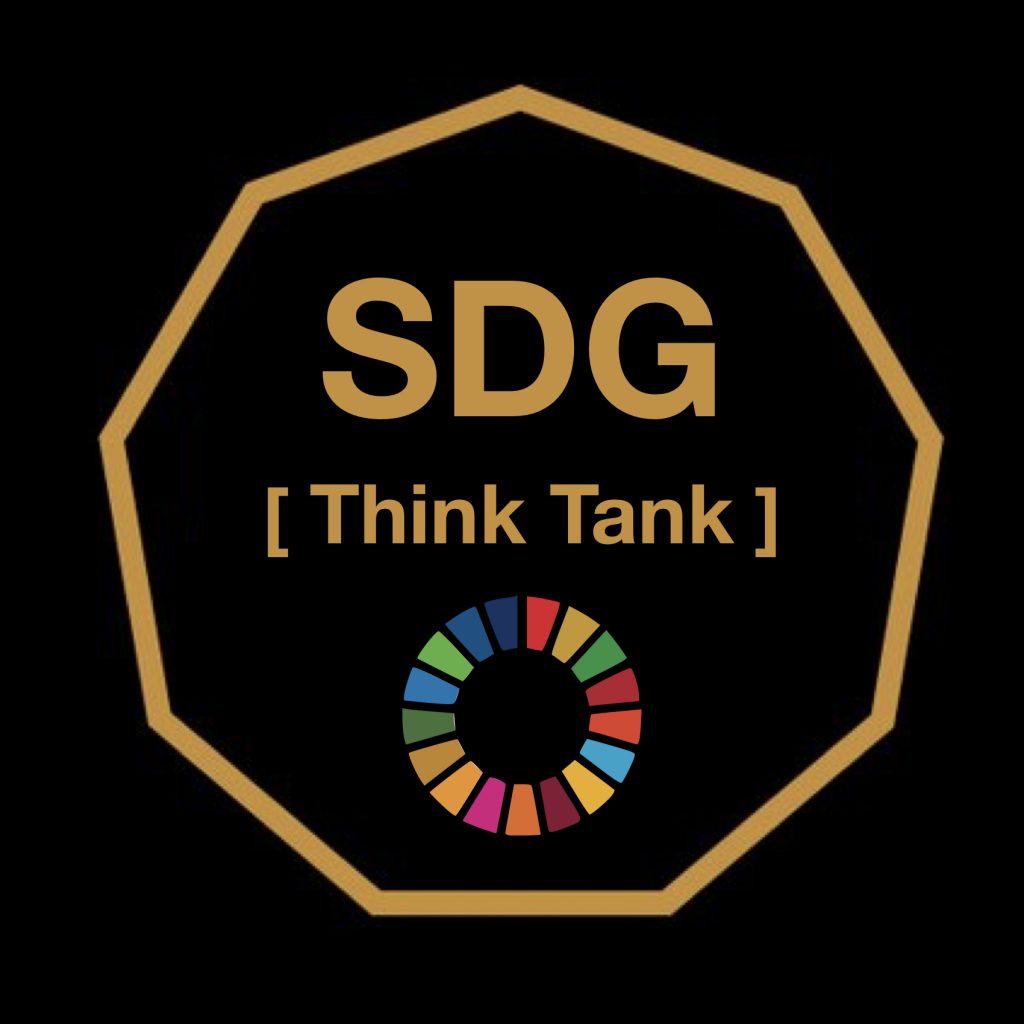 MATRIX-Q SDG THINK TANK
MATRIX-Q SDG PERFORMING ARTS
Since September 2018, www.mq9.nl is hosting Matrix-Q Think Tank for SDG (Global Sustainable Development Goals, by United Nations, for 2030) and Matrix-Q SDG Projects (Matrix-Q SDG Performing Arts).
For both cases Matrix-Q Skills and Tools training is provided to the collaborators and attendees.
www.mq9.nl Wishes to collaborate in this way with the current needs and challenges its location and region face, as well as suggest alternatives that can be implemented globally.
In order to join these events please contact us:  welcome@mq9.nl or visit our events page at EventBrite , at MeetUp Matrix-Q Think Tank,  MeetUp SDG Performing Arts, MeetUp Prevention, or at our events page at the Dutch SDG Charter