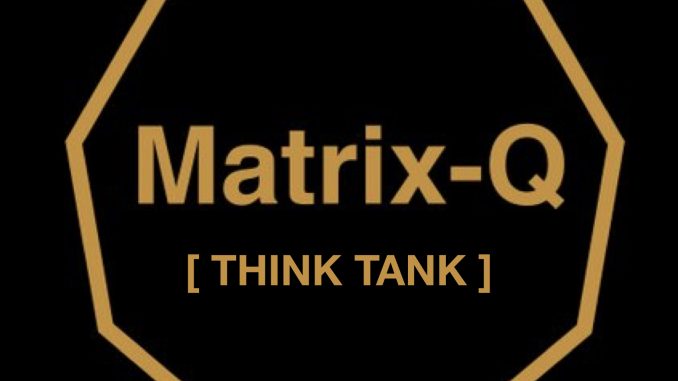 The Matrix-Q Think Tank Project
2016/2017 the "The RG PTT Collaboration Pool : A Gamified Multidisciplinary Research Project"was created with the purpose to gather multidisciplinary professionals interested to apply Matrix-Q Knowledge Tools and Skills for scientific research and innovation at the international scientific research network RG.
Along 2018 the focus is on "perception" and how and what kind of challenges means perception for scientific research
Along 2018 the Multidisciplinary Research Pool of the Matrix-Q Research Institute was launched: http://mrpool.matrix-q.com and the Lab 007 at RG of the Matrix-Q Research Institute.
The Matrix-Q Think Tank will have a platform online for researchers, innovators, entrepreneurs and thinkers that would like to collaborate, and also Matrix-Q Thinkers circles at location the Netherlands.
What is it ? [DEFINITION]
The Matrix-Q Think Tank is a multidisciplinary circle of creative and innovative thinkers.
Why meet ups ? [GOAL]
Through a meet up, personal interaction, multidisciplinary perspectives and collective emotional intelligence, are boosted through a Matrix-Q communication and collaboration process.
Our goal is to approach challenges, issues we would like to discuss or solve, collectively, through multidisciplinary collaboration and application of Matrix-Q Thinking Tools.
Impact [THE SOLUTIONS]
The achievements of the thinking tank will be published at the Multidisciplinary Research Magazine online Matrix-Q; as well suggested, if apply, to local government, organizations, business network or research and development or sustainable development networks.
Moderation [Team]
Moderation, Collaboration and Communication Process, Presentations & Matrix-Q Thinking Tools guidelines for use will be facilitated by Luis Daniel Maldonado Fonken, Research leader at the Matrix-Q Research Institute, The Netherlands. www.matrix-q.com
What is Matrix-Q ? [THINKING TECHNOLOGY, TOOLS]… (know more…)
Would you like to participate in the
Matrix-Q Think Tank ?
 meet ups will be scheduled monthly in the cities of Rhenen and Utrecht (the Netherlands) and online.