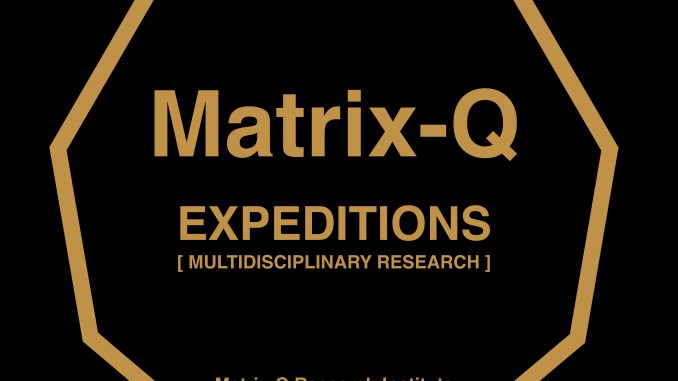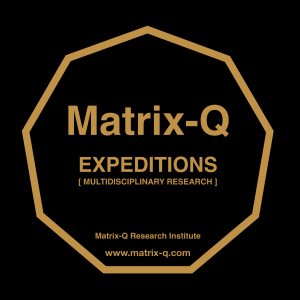 [ MEET UP ONLINE ]
[ MATRIX-Q EXPEDITIONS ]
TOPICS: 
Recruiting Presentations on Matrix-Q Multidisciplinary Research Expeditions
The Training Program (Team members and volunteers)
Fees
Q&A Questions and Answers
Register for Expeditions 2018-2019 (Schedule)
Expeditions Summer 2018
Sponsors role
ABOUT:
Matrix-Q Expeditions are planned for 2018-2019 (Multidiscplinary Research)
For some expeditions a min. number of volunteers and team members is necessary. Otherwise the expedition would not be scheduled.
A training program needs to be completed by each new team member before joining an expedition.
The meet up online has the purpose to provide information, and a space for collaboration agreement between intentional team members and volunteers, and supportters of the Matrix-Q Expeditions.
Along the meet up details on purpose of the expeditions and content of the training program, as well as organization details will be shared with intentional team members and volunteers, with the purpose of motivating them to pre-register for a team, expedition or collaboration agreement.
Intentional Sponsors may join as well this meet up in order to review the same information and find out more about their role and our policy for sponsorship.
PRESENTATION BY (Meet up moderation) 
Luis Daniel Maldonado Fonken, founder of the Matrix-Q Research Institute
MODALITY
Online Meet Up. Skype and Google Hangouts
REGISTER
INFORMATION CONTACT
DETAILS:
MULTIDISCIPLINARY RESEARCH
The expeditions have as for destination locations in which ancient cultures and civilizations have applied nature inspired knowledge and technology, or where there are found traces of their knowledge and technology.
The Matrix-Q Research Institute has developed its innovative futurist novel multidiscplinary know how by the study of nature laws, principles, rhythms, cycles, human factor (human stages of development, human potential, human intelligence) and  study of nature inspired knowledge and technology applied by ancient civilizations and cultures. A bridge to the past through multidisciplinary research that enables innovation necessary for the future of an emerging global culture and civilization.
As reference research projects and experiential research by the Matrix-Q Research Institute.
EXPEDITIONS 2018-2019
The expeditions 2018 and 2019 will be dedicated to the study of the traces of the Primordial Culture in Europe-Asia. A Mythical culture that has influenced with its thinking and knowledge cultures and civilizations in ancient europe-asia. [ http://primordial-culture.matrix-q.com ]
Archaeological, cultural and natural sites Luis Daniel Maldonado Fonken has planned as for purpose of continue the development of currently ongoing research projects has been scheduled, for which a crew of well trained team members is mandatory. (Reference, the 9 Matrix-Q Expeditions in Eurasia 1997-2017 )
TRAVEL PLAN & DESTINATIONS
Expeditions have been already scheduled for summer-fall 2018. Status: waiting for min number of team members to join. The destinations will be shared only with registered attendees along the presentations, meet up. The number of team members for each expedition vary, there is a limited number of seats available. Expereditions abroad traveling in europe may need of 7-12 days on site; or from 3-5 days on site.The first expeditions may take place in July and August 2018.
TEAM WORK EXPERIENCE (COMMITMENT)
Team members and volunteers will be trained in order to complete specific tasks along the expeditions in three main modalities:
A.) At location: joining Luis Daniel Maldonado Fonken at one expedition, involve travel and stay, at least 3 days, for 5 daily working hours on site.
B.) Online: joining Luis Daniel Maldonado Fonken at one expedition, care for digital and online tasks, at least 9 days for 3 daily working hours online.
C.) At location the Netherlands. Organization, travel operation tasks, 24/7 on call, and at least 3 hours daily, for the whole length of the expedition.
D.) At location the Netherlands After the expedition, complementary multidisciplinary research, assessment of data obtained and generated along the on site expedition and online research, publication. At least 27 days, 3 hours per day, within 81 days.
E.) Year team member and volunteer. A flexible number of hours and days within 729 or 365 days period commitment.
TRAINING PROGRAM
The training program focus on :
Matrix-Q Tools for multidisciplinary scientific research
Matrix-Q Research projects, associated with the expeditions
Matrix-Q Travel, Research & Expeditions Skills
Matrix-Q Self-Management & Team Building
Matrix-Q Online Collaboration (Project Management) Tool
Matrix-Q Teams (A,B,C,D,E  tasks groups) skills for their roles, duties and responsibilities.
Necessary knowledge base, skills, case study and application experience.