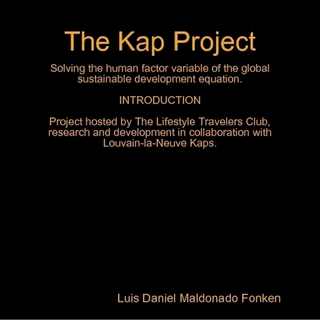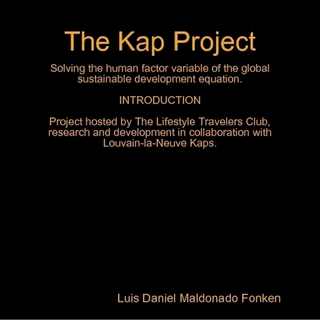 "The Kap Project  solve the human factor variable of the global sustainable development equation" ~ L D Maldonado Fonken
Research Project: The KAPS of Louvain le Neuve, UCL [ The KAP Project ]
Focus: Leadership and soft skills training through community living and collaborative projects in the Belgium
Researcher: Luis Daniel Maldonado Fonken,
Publications: 15 booklets, and 22 Videos.
Funding: Luis Daniel Maldonado Fonken, private means, in collaboration with the Lifestyle Travelers Club (Travel project of Luis Daniel Maldonado Fonken 1998-2015) and the KAPs of UCL, Louvain-la-Neuve. Special thanks to the KAP Organ, coordination and administration team of Les Kots a Projet of the UCL.
KAP: Les Kots a Projet: is a community of students from several disciplines that live together at the university campus an engage into a project they consider important for themselves, which has an impact in the location and students of the university, eventually solving an issue (as it originally was the purpose of the kap, while the UCL was grounded and the new city for students and university was being built, the Louvain le Neuve, students had to organize themselves in teams and communities caring for necessary city services: telephone, bakery, first aids, transport, cleaning, food distribution…and others. ) A brief review available at wiki [ https://en.wikipedia.org/wiki/Theme-based_shared_flat_(kot-à-projet)] but direct references please contact the KAP organe which is the central unit for coordination of all kaps http://www.organe.be/les-kots-a-projet
Time Line: The KAP project started in 2013, as results of an inspiration the researcher  had while visiting one KAP in the UCL, Louvain le Neuve. At that time the researcher was visiting the UCL for purpose of recruiting new team members for the Life Style Travelers Club, a travel, leisure and entrepreneurship project he runs through a variety of projects since 1999 (Southamerica (-2003) and Europe (2004-2016).
The researcher used to organize expedition to nature and cultural sites where to continues and develop research on nature inspired knowledge and technology of ancient civilizations and cultures; but as well visit human based project, in which models for community living and human self-organization are implemented. In that sense the researcher did visit Israel, as for research on Kibbuts, Russia as for off the grid community living, and several other community living, community and entrepreneurial centres in Europe and South-America.
Along his stay at the KAP in UCL, Louvain le Neuve, he did observe and asked the young students member of the KAP on the purpose of this type of students community, after some days exchange decided to design and develop a research project of 3 months.
Project Outline: 
Visit and stay in KAPs of UCL, Louvain le Neuve
Assessment of KAPs design, experience and benefits for students
Focus on how experiential learning, learning by doing, by real experiences, speed up the process of acquisition of skills and knowledge necessary for self-management, effectiveness, team work, communication, collaboration, project management, leadership and entrepreneurship.
Assessment Methods:
Publications:
15 booklets, and 22 Videos.
The booklets have been made available through the self-publishing platform lulu.com and the videos through vimeo.com
Researcher Conclusions:
The KAPs are an ideal solution that if implemented with a structured and gamified learning program and legacy administration, know how and experience transfer, to new generations of kapist, could become a unique experiential training for university students, communities and organizations for which there are possibilities for living and working together in projects.
With an alternative digital design, platform, the kaps could be implemented in cities, by a network.
As well an ideal method for training students and teams for start ups through full immersion.
Legacy:
The researcher suggested the implementation of kaps as for the purpose described above and promoted the KAPs model of experiential learning along his journeys and presentations.
The PTT KAP project is a project developed by the Stichting Luis Daniel Maldonado Fonken, in which clusters with focus on projects will build up communities and implement project at their locations and abroad traveling coordinated through an online hub and collaboration platform. One of their main goals is the study of Primordial Technology Theta, body of work of Luis Daniel Maldonado Fonken, www.matrix-q.com for review at the Matrix-Q Research Institute and collaborate from abroad (not in the Netherlands) or abroad traveling, with research and experiential projects developed by the   Stichting Luis Daniel Maldonado Fonken
Collaboration, Participation: Please contact the Stichting Luis Daniel Maldonado Fonken