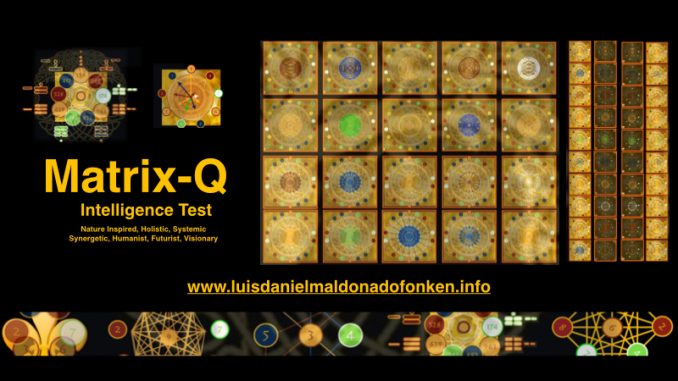 "Do you want to know what is Matrix-Q Intelligence ?"
Experiential Presentation in Rhenen, The Netherlands
https://www.eventbrite.com/e/do-you-want-to-know-what-matrix-q-intelligence-is-tickets-40994105473?utm-medium=discovery&utm-campaign=social&utm-content=attendeeshare&aff=escb&utm-source=cp&utm-term=listing  @Eventbrite
MATRIX-Q Intelligence
.What is it ?
.How can be enhanced ?
.How can Matrix-Q help you in your professional development, business or family life?
.Can be a Matrix-Q test for individuals be utilized to do an assessment of a company, project or city ?
.Why Matrix-Q skills need to be integrated in the education programs for children and adults ?
.How Matrix-Q could help you prevent burnout, be a better leader, make your life happier?
Matrix-Q Intelligence means the ability to solve challenges by approaching them from several perspectives simultaneously.
A free presentation offered in Rhenen city.
After the presentation attendees will receive a gift certificate for a course online and an e-book.
The presentation is provided by a non for profit organization dedicated to scientific research and study of the human potential and natural stages of development: Matrix-Q Research Institute.
DATE: 12th Dec. 2017
VENUE:
PROGRAM
Starts: 13.00 AM Ends 14.30 PM
Walk in the forest 30 min. Introduction, Presentation: Matrix-Q Intelligence
Back to the Restaurant Paiviljoen,
…Presentation with a warm Tea.
…Matrix-Q Test 3+ experience
…Matrix-Q Self-Assessment 3+ Experience
…Questions and answers
Ends:
LANGUAGE
English
FEES:
Free.
Attendees will receive gift certificates in value 100.00 EUR
REGISTER
The presentation will be private, only for a limited number of registered attendees. (9)
Please contact us on advance in order to confirm your attendance to: welcome@luisdanielmaldonadofonken.info