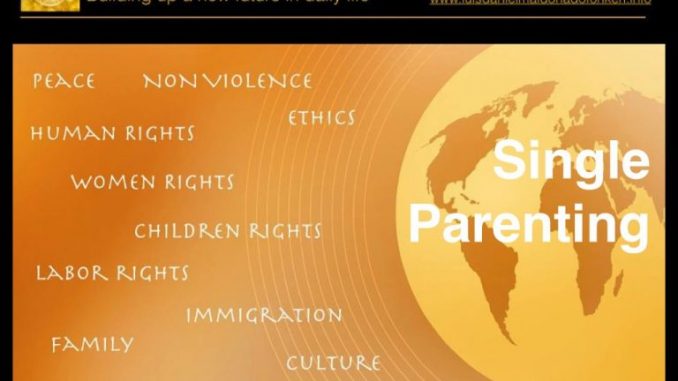 FREE Online Courses for Single Parents [ Emotions, Time Management, Decision Making, Burnout Prevention, Matrix-Q Intelligence — Self-Coaching ]
These wonderful FREE courses will help single parents find order and flow in the natural chaos and set of unpredictable events unfolding everyday with their children.
The goal, is to provide to single parents tools for self-coaching and self-management designed for achieving a Family-Life-Work Balance.
"The art of decision making and time management defines the outcome of the day, resources management, process management are key for the administration of a family, business and life projects. With right strategy and planning, step by step, dreams can become true."- LDMF
HOW TO ACCESS TO THE FREE ONLINE COURSES ?
The e-learning programs are provided at Udemy, a professional platform for single parenting.
Please contact The Ɵ Foundation for a CODE that will let you access to the course free of charge to welcome@luisdanielmaldonadofonken.info
WHO OFFER THE COURSES?
These courses are provided within the Preventive Intervention Program of the Ɵ Foundation for single parents.
More details about the program, online conferences, study circles:
BACKGROUND KNOWLEDGE
Nature inspired, holistic, synergetic and systemic tools utilized for strategic management, leadership, self-management and coaching. Matrix-Q Methods.
. Holistic Strategic Management Services of the Ɵ Foundation www.hoistic-strategic-management.com
. Matrix-Q Coaching Services of the Ɵ Foundation
. 9-Steps Program: Burnout Prevention, Self-Management and Matrix-Q Intellligence (Human Potential and Life Span Services of the Ɵ Foundation)
MOTIVATION LETTER BY Luis Daniel Maldonado Fonken
Along my journeys, since 1996, i have met wonderful people, sensitive to life, with creative inspiring ideas, dreams and values. most of them parents.
I have also experienced that single parents the most, have uncompleted dreams and wish for an opportunity, support, to accomplish them.
The love they have for their children, bring them to face complex challenges, within their own hearts, in their social life, personal development, professional development or generation of wealth, achievement, realization of their dreams, and happiness.
I am aware that individuals that are single and have no children may have difficulties understanding the sensitive nature of this project. But i am certain single parents, and couples-parents in general will do.
The feeling of completion of dreams, self-realization of an individual is extremely important for our society.
In particular when parents achieve their own dreams, children learn with them, all that is in their own spirit, necessary to bring, in order to make their dreams true, or to achieve their goals.
The main intention of this project, is to inspire single parents, to tell them, we are empathic to their situation, and would like to support them, by first sharing a word of understanding, but as well creating alternatives for them, to work on.
The Parenting Theta project is result of several years of experience, as coach, trainer, friend, traveler, volunteer and love partner in the field of relationship with single parents.
My wish is to see their hearts smiling, filled with light and joy, as they have every day taken one more step towards the realization of their dreams, and have experienced the satisfaction of completion of milestones in their own
development.
I predict that this project will be a first voice in a choir of sensitive volunteers, coaches, trainers, social workers, social entrepreneurs, that have a vision of future, understanding of the nature of happiness, the importance of selfrealization, and the clarity on the importance of the role of parenting, the impact of parents presence and life, leaved in the hearts, perception and spirit of children.
Yes, this project is dedicated to single parents, but actually is for their children, with happy parents, we will create the necessary conditions for children to evolve as global citizens able to reach themselves their own happiness. Parents are the best and most important direct example, model and teacher, for life.
May this project, be of benefit for future generations and our legacy for a new global culture and civilizations.
Thanks for your appreciation, interest, collaboration and support
Luis Daniel Maldonado Fonken
Chairman, CEO,
The LDMF Foundation
ONLINE FREE CONFERENCES
SINGLE PARENTS " Their challenges, success and happiness "
Every season (at Solstice and Equinox) a set of conferences for the next three months will be scheduled for the pre-registered intentional attendees. Please contact us and register for these free events online.
Host: Luis Daniel Maldonado Fonken, Coach and Trainer in Self-Management & Burnout Prevention.
Along the online conferences several topics will be discussed:
Single Parents Challenges
Self-Management for Single Parenting (WIKI…)
Parenting, Education
Time Management
Emotions, decision making, perception
Baby sitter, paid, trade or family/friends ?
How single parents solve their challenges ?
Second profession
Job seeking
Burnout and single parenting (burnout prevention)
Why single parents that are happy with their life (self-realization) have children that become capable to realize their dreams too ?
How challenges and weaknesses of single parents are transferred to their children ?
Introducing a new love partner to your children.
The social stigma of being a single parent.
What do your own parents think about you being a single parent ?
How do you feel receiving alimony ?
Do you cover your life expenses with social benefits or fully with alimony from your ex love partner?
Sex and single parenting. Do you have sex at home or not ?
Single parents network.
Single Parents Community House.
Skills single parents would appreciate to have, develop.
Self-employment, starting up your own business.
Single parents meet up. and Group coaching by Stichting LDMF.
More topics related to attendees questions and answers.
Fees: Free (Donations are welcome).
How to register:
Add yourself to the event: EventBrite
Write us an e-mail: welcome@luisdanielmaldonadofonken.info
Schedule
The schedule will be shared by e-mail only with those registered.
In order to join, intentional attendees will receive an online code.
The Sitchting LDMF intents to organize these events online at least once per month.
Based on the response of interested attendees the total number of conferences and the frequency per month may vary.
Original Article at the Matrix-Q Magazine Online of the Ɵ Foundation