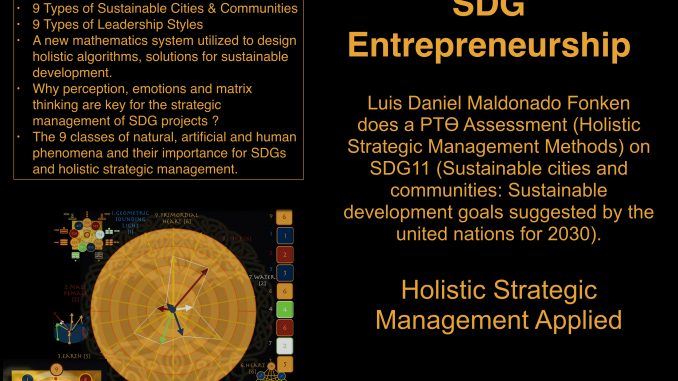 PTƟ — SDG Entrepreneurship — NEW BOOK RELEASE
2018 January 18th, 18.00 hrs
In his new e-book, Luis Daniel Maldonado Fonken does a PTƟ Assessment (Holistic Strategic Management Methods) on SDG11 (Sustainable cities and communities: Sustainable development goals suggested by the united nations for 2030).
Holistic Strategic Management Applied to Sustainable cities and communities, SDG 11.
In the same publication: insight on PT Know How, tools and methods utilized for holistic strategic management: goals identification, assessment tools, algorithms design process, implementation guidelines.
A workbook on SDG Entrepreneurship will be included, with guidance for NGOs and profit types of business.
As well additional content and information regarding PTƟ Know How, for example:
.9 Types of SDG Projects
.9 Types of Sustainable Cities & Communities
.9 Types of Leadership Styles
.A new mathematics system utilized to design holistic algorithms, solutions for sustainable development.
.Why perception, emotions and matrix thinking are key for the strategic management of SDG projects ?
.The 9 classes of natural, artificial and human phenomena and their importance for SDGs and holistic strategic management.
ABOUT PTƟ KNOW HOW
The PTƟ Standard offers a systemic set of principles and guidelines for the application of the PTƟ Know How.
PTƟ is a nature inspired, holistic, synergetic and systemic know how.
PTƟ:
Primordial [Original, Natural, Ancient]
Technology [Knowledge, System, Technique, Method, Tool]
Theta [9, Complete, Advanced, Holistic, Perfected].
PTƟ Core know how has been developed by the study of nature principles, rhythms, cycles and laws. DNA Generation Algorithms, as well by the study of the human factor (Human Potential, Stages of Development); and by the study of nature inspired know how and technology of ancient civilizations in ancient Eurasia: Europe, Nordic modern Eurasia (Russia, India, China, Japan, Egypt, Arabia, Persia, Asia).
PTƟ Know Know for strategic management creates a futurist and visionary bridge between ancient cultures and technology, current sustainable development global needs and modern holistic strategic management.
PTƟ Core applications have evolved since 1987 as tools and algorithms for self-management, assessment, quantification of value, project management, holistic strategic management, leadership, education, social management, scientific research, wealth generation, technology innovation, governance.
Continuous multidisciplinary research at the LDMF Foundation intents to develop novel applications of PTƟ in fields: A.I., ICT, Neuroscience, Biotechnology, Life Span, Human Potential, DNA Studies, Engineering, Geo-Location Assessment, Energy, Holistic Strategic Management, Education, Social Management, Governance, Sustainable Development, Peace, Human Rights, Wealth Generation, Resilience, Family, Culture, Nature Care.
ABOUT SDG ENTREPRENEURSHIP PROJECT OF THE Ɵ FOUNDATION
https://sdg.luisdanielmaldonadofonken.info/services/
The SDG Project of the Ɵ Foundation offers you technical support, technology transfer, knowledge acquisition, education, collaboration, network towards achievement of the 17+ SDG (REF: UN. SDG 17) provided to SDG Entrepreneurs and SDG Start Ups.
e-LEARNING & MENTORSHIP: Holistic Strategic Management
Holistic Strategic Management Tools : SDG Entrepreneurs will be able to learn the tools online, apply them, share their experiences, receive support, review of case study.
Mentorship, coaching, consultancy, online conferences, presentations, e-forum, group-coaching, articles, e-books, case study will be made available.
The body of work has been developed since 1987, through multidisciplinary research, it involves several tools, for assessment, quantification of value, score card, algorithms design, register and archive of data, organic development process management, time, emotions and risk management, SWOT 9+, and many more. All in one package of tools dedicated to holistic strategic management.
www.holistic-strategic-management.com
SDG 11 Sustainable Cities & Communities
A new e-book by the Ɵ Foundation with focus on SDG 11: Sustainable cities and communities will be the main focus of the platform. Case study, assessment and learning materials will be provided.
GAMIFIED PLATFORM
The platform will be gamified and contributions, will be prized with gift certificates for training, coaching or consultancy. The LDMF Foundation (Ɵ Foundation) plans to include sponsorship, micro-credits, scholarships, fellowships and grants, as prizes given to the participants.
CERTIFICATION & LICENSES
Participants will we encouraged to qualify for evaluation for user certificates (Holistic Strategic Management Tools), and Licenses that will empower them as providers of training programs, coaching and consultancy at their locations. http://holistic-strategic-management.com/Licenses.html
ORIGINAL ARTICLE at the Matrix-Q Magazine of the Ɵ Foundation