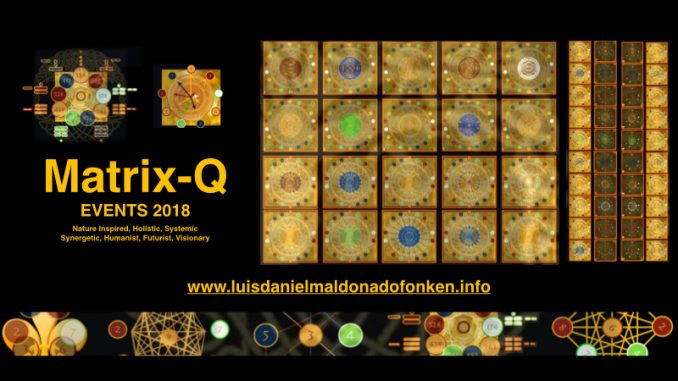 The Ɵ Foundation has taken over the Odin Theta Academy.
Between 1987 and 2016 only my close students have joined the Academy. Between 2014–2017 the training programs of the Academy have been gamified and integrated to a an internship program dedicated to holistic strategic management, coaching, training and consultancy skills.
The Academy follows an ancient modality of teaching through the study of nature laws, principles, cycles and rhythms; study of the human potential (human factor) and futurist study of technology and knowledge of ancient cultures and civilizations. Back to nature, with a visionary futurist and humanist perspective, the focus on the school is to bring by to its students a path towards self-management and self-knowledge.
The Method followed by the academy is of experiential gamified education, learning by doing, learning by playing and learning by creating. For this methods the PTT Tools applied for education will be utilized, in particular a Systemic Perception of Human, Natural & Artificial Phenomena, which help the students and teachers develop an holistic and humanist perspective towards knowledge, human culture and civilization, family, peace, life sustainability, heritage, wealth generation, legacy and human potential.
The Odin Theta Academy Start Ups
The implementation of two programs for application of the know how provided by the Odin Theta Academy has been set in 2017.
Both platforms are available for entrepreneurs and researchers that wish to learn PTƟ Know How. Both of them has been gamified and offer important prices.
General information about both of them is offered as well at the Ɵ Foundation Website in relation to both of them business incubation program.
From now on students of the Odin Theta Academy, may also engage into business, if they qualify through application, for the business incubation program of the Ɵ Foundation.
DEFINITIONS
The Matrix 9+ Game Generator: is a Matrix-Q Tool designed for the purpose of game creation, by application of PTƟ Know How.
CGE: Culture generation engine, a systemic tool utilized for perception, organization, management of natural, artificial and human phenomena. Each culture has one, eventually developed by the culture generators or by the subconscious collective mind which evolved in a precise time and geo location settings. The CGE applied in any community will induce in the human collective perception, behavior, value, decision making guidelines, operational guidelines, costumes, meaning, language and others that define a culture.
PTƟ: The PTƟ Standard offers a systemic set of principles and guidelines for the application of the PTƟ Know How. PTƟ is a nature inspired, holistic, synergetic and systemic know how.
PTƟ:
Primordial [Original, Natural, Ancient]
Technology [Knowledge, System, Technique, Method, Tool]
Theta [9, Complete, Advanced, Holistic, Perfected].
PTƟ Core know how has been developed by the study of nature principles, rhythms, cycles and laws. DNA Generation Algorithms, as well by the study of the human factor (Human Potential, Stages of Development); and by the study of nature inspired know how and technology of ancient civilizations in ancient Eurasia: Europe, Nordic modern Eurasia (Russia, India, China, Japan, Egypt, Arabia, Persia, Asia).
PTƟ Know Know for strategic management creates a futurist and visionary bridge between ancient cultures and technology, current sustainable development global needs and modern holistic strategic management.
PTƟ Core applications have evolved since 1987 as tools and algorithms for self-management, assessment, quantification of value, project management, holistic strategic management, leadership, education, social management, scientific research, wealth generation, technology innovation, governance.
Continous multidisciplinary research at the LDMF Foundation intents to develop novel applications of PTƟ in fields: A.I., ICT, Neuroscience, Biotechnology, Life Span, Human Potential, DNA Studies, Engineering, Geo-Location Assessment, Energy, Holistic Strategic Management, Education, Social Management, Governance, Sustainable Development, Peace, Human Rights, Wealth Generation, Resilience, Family, Culture, Nature Care.
PSL: PSL — Primordial Symbolic Language, is a form of symbolic language that utilize nature laws, principles, cycles and rhythms;, knowledge on human stages of development (human factor), and nature inspired knowledge of ancient cultures and civilizations. In this case, PSL has been utilized for purpose of self-coaching, mentorship, in self-management, self-leadership field of work. This is one of the intents by the researcher to utilize PSL as it has been used traditionally by ancient civilizations. The PSL encoded language has a matrix 9+ field of meaning, Matrix-Q Language; the meaning need to be understood by approaching the message from several perspectives (matrix 9+, Matrix-Q) simultaneously. The researcher has developed experiments on PSL, Groundbreaking communication, PSL applied for self-management, strategic management, coaching, and published those e-books and articles. All of them available now at the e-library of the LDMF Foundation: http://e-library.luisdanielmaldonadofonken.info/e-books-directory/ PSL is utilized at several research fields, as it allows communication with cyphers, encoded language, and is being utilized by the researcher for the development of a A.I. Engine Programming Language.(Artificial Intelligence).
Primordial Culture: There is a myth in the field of history, archaeology and study of culture and human evolution, that there is an original or primordial culture from which all cultures have evolved.
THE STORY
In 2014 I founded the Odin Theta Academy, a resemble of an ancient greek academy with the intention to provide teachings of Prime Technology to committed close circle of students.
The teachings will be provided in primordial symbolic language PSL, through symbolic story telling, will include studies of ancient cultures, the hypothetical prime culture/primordial culture, multidisciplinary archeology, self-knowledge and personal development. Focus will be the review of nature inspired know how and technology of ancient cultures.
Between 1987 and 2016 only close students of Luis Daniel Maldonado Fonken were welcome to his inner circle of Teachings, after completing and assessment and a series of trials. 2014 a completion step was done by the design of the Academy (Russia, Finland, Austria, Belgium). Its first trials were developed in 2011, Germany (EM Academy — Elements Management Academy).
Since 2016 the process of assessment is provided through gamification and an internship program, with a rank that gives to the interns the possibility to identify further goals, milestones and stages of development necessary for them to reach an inner circle of teachings. http://cxo.luisdanielmaldonadofonken.info
Along 2017, two application programs have been implemented, now students of the Odin Theta Academy may test and validate their skills through SDG Entrepreneurship and Design and Implementation of PTƟ Primordial Algorithms.
In 2017, the Ɵ Foundation launched a new research project: A 3-Fold Comparative study dedicated to research on the traces of the primordial culture found in modern times, through the study of ancient cultures and civilizations, PTƟ Know How, CGEs, PSL and the myth of the Primordial Culture.