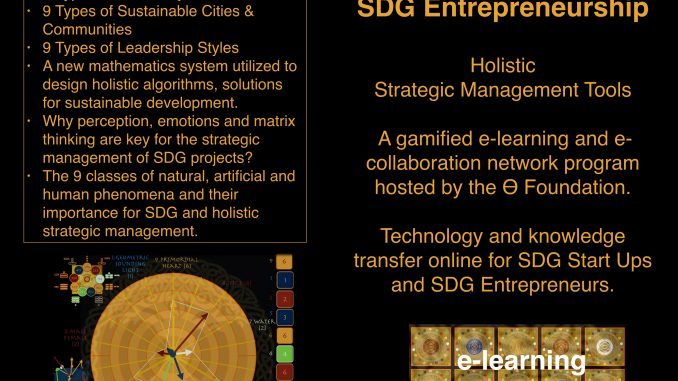 "The SDG11 Sustainable cities and communities", a new book by the Ɵ  Foundation, & a new online platform with holistic strategic management tools for SDG Entrepreneurs
"17 Goals to transform our world"
An idea followed by non profit organizations, governments, SDG entrepreneurs and corporations world wide.
What is the kind of world we envision in our close future. 2030 is not that far from today, and 13 years are not a long time for project development and entrepreneurship neither ?
Do you have your project running already ? Are you a SDG Entrepreneur ?
SDG Entrepreneurs engage into sustainable development, by cocreating together a global process dedicated to achievement of the 17 SDG.
Which SDG have you chosen as your direct entrepreneurship aim ?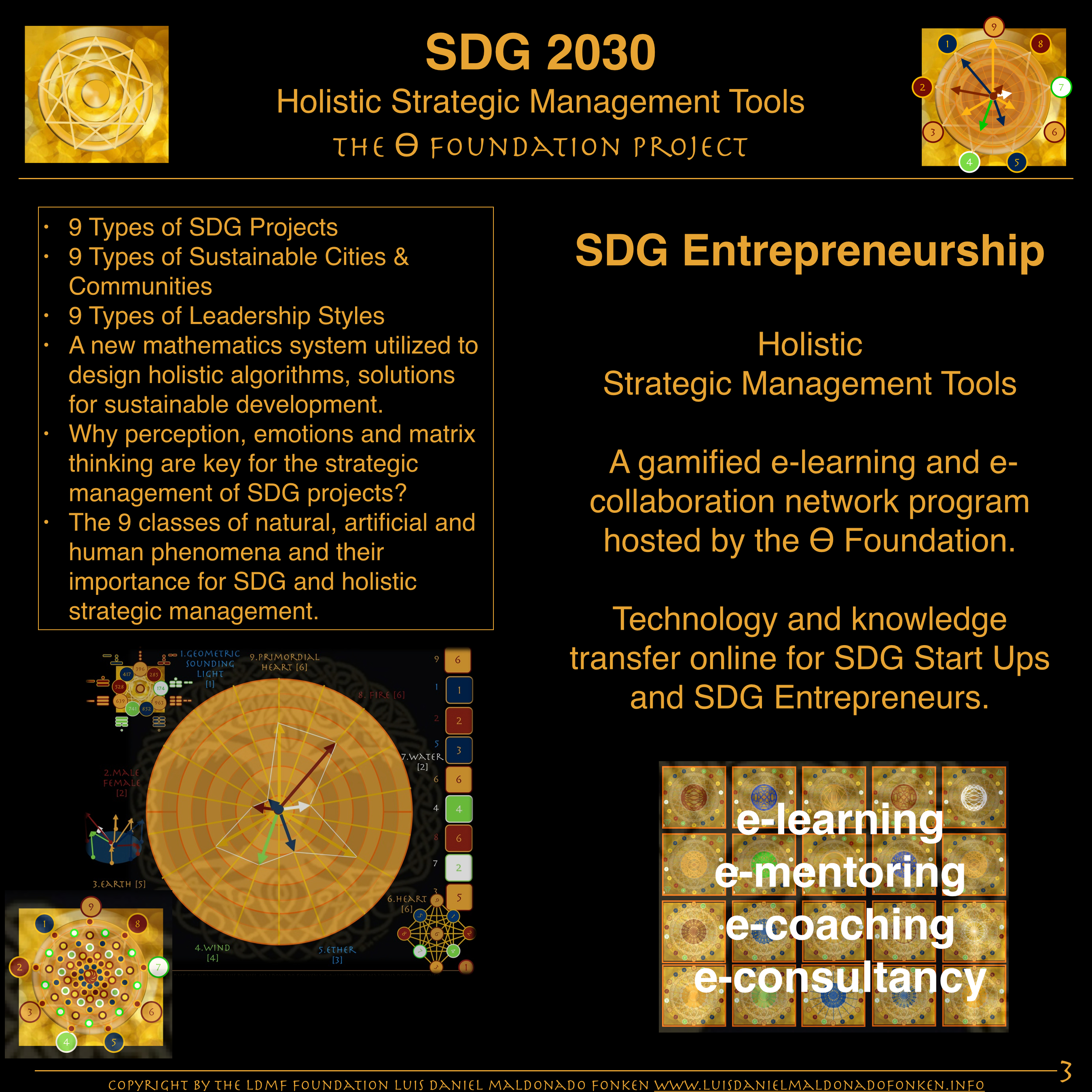 For example, why the earth-3 field (9 Fields of assessment, perception, organization and management of human, natural and artificial phenomena, PTƟ
 Assessment Tool, 2017
www.holistic-strategic-management.com
http://e-library.luisdanielmaldonadofonken.info/e-library-collections/the-9-elements-the-heart-quick-sylver-collection-11x-e-publications-over-1370-pages/
) is the main target of the SDG ? The earth-3 field belongs to: food, shelter, health, property, land, family, culture, community, government, security, defense, happiness.
There are other 8 fields, and the 9 together, provide a synergetic, holistic, systemic and sustainable development? Why earth-3 is so important ?
In the year 2014, i published a series of video clips, on wealth generation, and focus on the earth-3 field, described above, as necessary for peace, happiness, advanced quality of living, wealth generation and sustainable development.
Either case, the earth-3 field is only one of the 9 fields necessary for holistic strategic management of sustainable development. How to integrate the other 8 fields in the SDG? or how far the other 8 fields have been integrated ?
FROM SURVIVAL TO SUSTAINABLE GLOBAL CIVILIZATION in 3 Stages
The 9 fields have been organized in three triads.
The first one focus on survival, earth-3, fire-8 (creative thinking and production) and water-7 (information systems, emotions and process awareness). As soon as survival has been achieved by the development or projects that involve the 3 fields, a next stage is feasible, or possible for human individual and community to focus on. The shift from survival and conflict, into collaboration, development of community and culture.
The second triad is the one that focus on the organic development of family, culture, community, values, aspirations, inclusion, equality, human rights, peace, and the design of a city, organization, nation, in which sustainable development is possible. This is the triad in which SDG is essential and should be focus, guidance for any form of development. (organic-development-4, the heart-6, ether-5 are the cyphers, codes given to the fields).
The third triad belongs to that one of an advanced global civilization, in which cocreation of an advanced quality of living and culture is an individual and universal aim, universal values are taken as priority globally and support collaboration beyond cultural, racial, historical, clans, tribes or gender differences. A perception of the world, there for its management (holistic strategic management of sustainable development) is that of a multidimensional matrix, in which key words as synergetic, holistic, fractal, systemic, quantum, multidimensional, are integrated in the equation of any algorithm. Complexity and simplicity share the same ground of collaboration, knowledge and development of pragmatic solutions.(The triad key words are: primordial heart-9, co-creation-2, and geometric-sounding-light-1)
Through an assessment of these three triads, it is possible to identify how advanced is a culture, a location, a city, a family, a company.
9 TYPES OF ORGANIZATIONS, PROJECTS, COMMUNITIES & CITIES
There are at least 9+ fundamental types of organizations (or complex human systems, listed above).
TRAID of the Under-world (survival)
Type 03: material means, earth-3.
Type 08: creative thinking and production: fire-8
Type 07: information systems, emotions and process awareness, water-7.
TRIAD of the Earth-ground (family, community and culture)
Type 04: organic development-4, network, culture
Type 05: design, strategic design of solutions, organization, ether-5
Type 06: values, aims, operational guidelines, heart-6
TRIAD of Heaven (global civilization)
Type 02: co-creation-2
Type 01: Matrix thinking, perception, solution making (geometric-sounding light -1)
Type 09: universal values, operational guidelines, mission, primordial-heart-9
At this stage the reader may realize that an organization may be unidimensional if focus in only on type, for example type-7, its design, focus is on emotions and information. But if has a bi-dimensional design, may  focus on two fields, for example: in the triad of survival, earth-3 and fire-8, the most known combination in our modern culture, creative strategic thinking, production, wealth and property.
A tri-dimensional system, or multidimensional system will follow, when more than 2 fields are included for holistic strategic management.
In our modern culture, most of organizations are Type38 (earth-3, fire-8), modern corporate intents to become a Type387 (earth-3, fire-8, water-7).
A complete and advanced organization would by the type Ɵ, for example: Type:123456789 in which the three triads are in sustainable developed and in balance.
Sofisticated corporate type of organizations very close to type Ɵ are for example religious organizations, military and governments.
Why should a small company, city, clan, or corporation intent to evolve to a type Ɵ of organization ?
HOLISTIC SUSTAINABLE CITIES & COMMUNITIES new e-book
These are the questions we will answer in our following publication on SDG 11:  Sustainable Cities and communities.
In the field of assessment of sustainable development regarding cities and communities, all 17 SGDs enter into consideration as part of the SDG 11.  When we thinking about sustainable cities and communities all SDG must be integrated in strategic management.
HOLISTIC OR SYSTEMIC ?
The word holistic involves the idea of a whole. A systemic perception may define 17 fields in which sustainable development can be implemented, after assessment and strategic design of the process necessary for achievement of the sustainable development goal set. But systemic management is not the same as holistic management. Holistic management focus on everything that involves life sustainability, not only the most trendy or currently perceived as relevant goals.
For example an organization may have been structured in 3 main areas. A systemic analysis would for example give us information on how each of these 3 areas is evolving. A SWOT analysis for each area for example. But the fact that all areas have been integrated into consideration and assessment, for purpose of strategic management, does not yet mean that the strategic management is holistic.
Holistic management must include as many fields as necessary for life to be sustained.
The PTƟ Tools, consider 9+ fields for perception, organization, and strategic management of human, natural and artificial phenomena. Which gives an holistic tool for management. The three triads described above.
The body of work has been developed by the author, since 1987, through multidisciplinary research, it involves several tools, for assessment, quantification of value, score card, algorithms design, register and archive of data, organic development process management, time, emotions and risk management, SWOT for 9 fields, and many more. All in one package of tools dedicated to holistic strategic management.
THE Ɵ  Foundation SDG PROJECT: e-LEARNING for SDG ENTREPRENEURS
The LDMF Foundation (Ɵ  Foundation) will make those tools available for SDG entrepreneurs in 2017-2018 through an online platform dedicated to SDG Entrepreneurship, focus on PTƟ Tools for Holistic Strategic Management)
SDG Entrepreneurs will be able to learn the tools online, apply them, review of case study and receive support by the author.
The platform will be gamified and contributions, will be prized with gift certificates for training, coaching or consultancy. The LDMF Foundation (Ɵ Foundation) plans to include sponsorship, micro-credits, scholarships, fellowships and grants, as prizes given to the participants.
The main goal is of collaboration towards achievement of the 17+ SDG.
At this platform, that will be soon introduced, with a register process, participants may join free (gamified participation) or collaborate with fees and donations. https://sdg.luisdanielmaldonadofonken.info
As well, the main focus will be the study of the publications being prepared by the author on SDG 11, Sustainable cities and communities.
REFERENCES
SDG PROJECT of the Ɵ Foundation
SDG UN
SDG11
Sustainable cities and communities
HOLISTIC STRATEGIC MANAGEMENT
Consultancy, certificates, licenses and training
REGISTER, CONTACT
for SDG Entrepreneurs that wish to participate, learn the tools provided by The LDMF Foundation (Ɵ Foundation) to: welcome@luisdanielmaldonadofonken.info
PTT SDG Project
SDG ENTREPRENEURSHIP
Business incubation Program by the Ɵ Foundation
THE Ɵ Foundation
RESEARCH GATE Multidisciplinary collaboration platform for collaborative research on SDG based on application of PTT Tools for Holistic Strategic Management
SOURCE OF THIS ARTICLE: The Matrix-Q Magazine