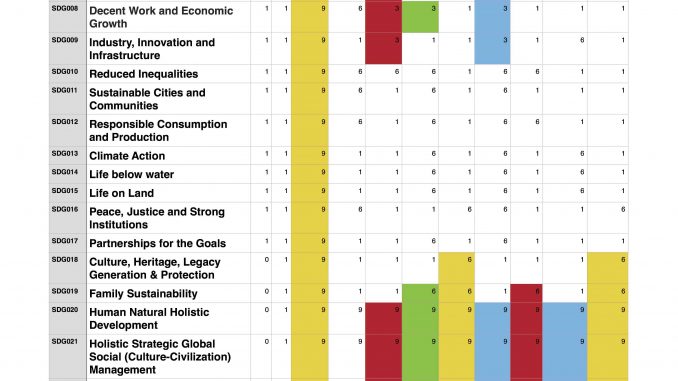 What is necessary for the future of humanity ? the survival of the human species ? for the achievement of a sustainable, holistic global quality of living? for the achievement of happiness ? How can we change the future of humanity ? – Luis Daniel Maldonado Fonken

By Luis Daniel Maldonado Fonken

Author, Researcher:

A.I. & Cuture Generation Engines in Eurasia

For The LDMF Foundation
The LDMF Foundation, has launched a gamified multidisciplinary collaboration project, with aim of promoting the use of its core know how (PTT Know How), and providing fellowships and scholarship to a starting team of representatives, trainers, coaches, consultants, and PTT Standard Certification and License providers.
The gamified project focus on the application of PTT Know How, for the design, development and implementation of solutions for SDG (Sustainable Development Goals, suggested by the UN, 2015).
The LDMF Foundation PTT SDG project includes 22 SDGs, 5 more than those suggested by the UN. After completion of a PTT first assessment of the 17 UN SDG ( A process in which PTT Assessment Tools are utilized for purpose of Matrix-Q evaluation of a challenge, situation or issue to be solved) , Luis Daniel Maldonado Fonken, has identifying strategic impact points and fields in which strategic solutions are necessary, for which PTT Know How will be applied. Complementary to the 17 UN SDG, Luis Daniel Maldonado Fonken suggests additional 5 SDG. For a total of 22+ PTT SDG.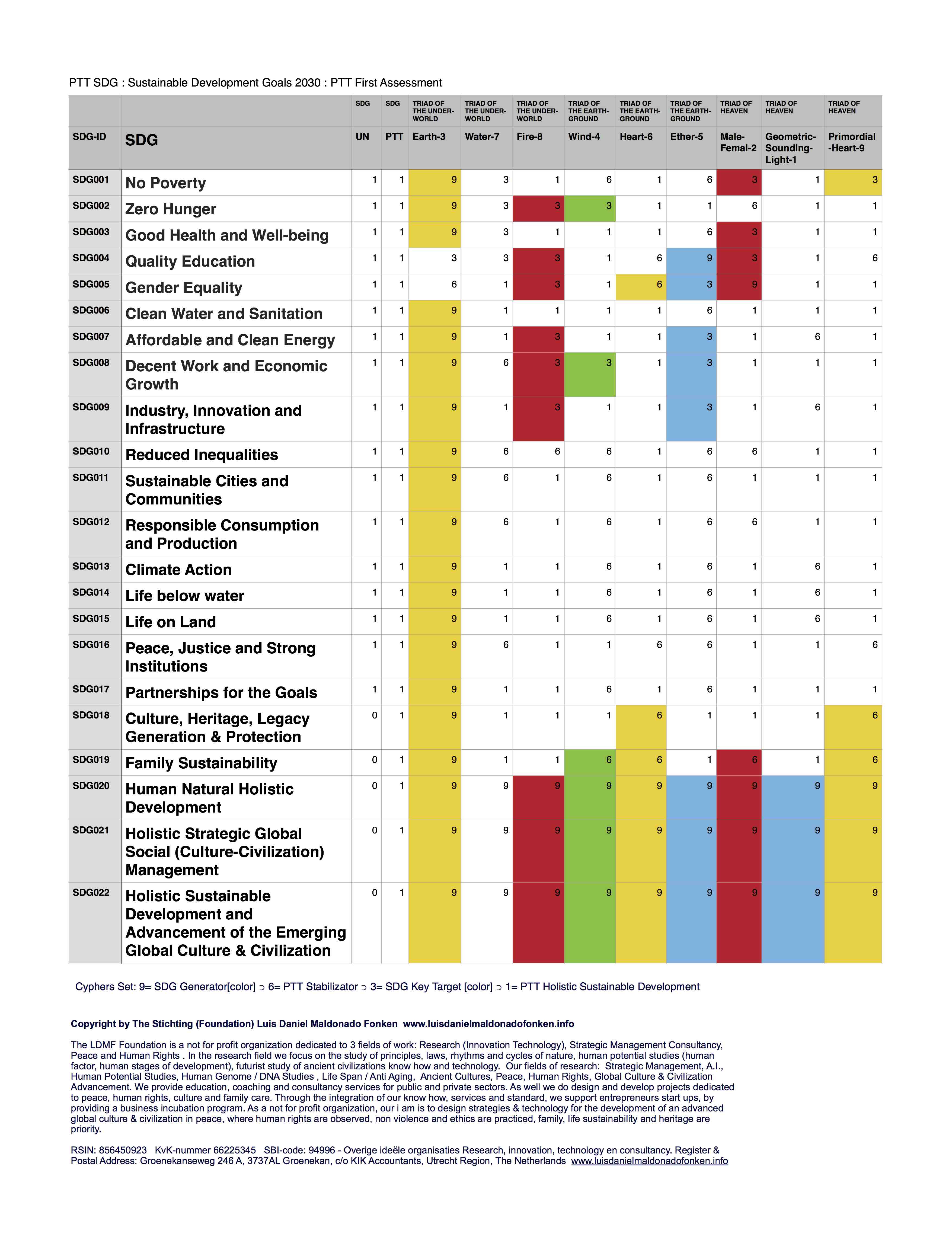 Project Overview:
PTT Sustainable Development Goals 2030 (PTT SDG)
PTT Know How Applied for the Development & Implementation of Solutions in the fields of Global SDG
DOI: 10.13140/RG.2.2.32311.01447
09/2017, Affiliation: LDMF Foundation www.luisdanielmaldonadofonken.info
FIELD
Multidisciplinary, PTT Methods, PTT Applications, United Nations SDG, Global Holistic Sustainable Development, Human Potential, Human Evolution, Emerging Global Culture & Civilizations, Family, Peace, Human Rights, Heritage, Legacy, Wealth Generation, Scientific Research, Technology Innovation, Social Management, Governance, Strategic Management, Leadership, Self-Management.
GOAL
.Research and technology innovation, application of PTT Know How for the development and implementation of solutions, technology, services, products and projects that collaborate with the achievement of the PTT SDG (17 SDG by UN, 22+ SDG by PTT).
REFERENCES
The Sustainable Development Goals (SDGs), officially known as Transforming our world: the 2030 Agenda for Sustainable Development is a set of 17 "Global Goals" with 169 targets between them. Spearheaded by the United Nations through a deliberative process involving its 193 Member States, as well as global civil society, the goals are contained in paragraph 54 United Nations Resolution A/RES/70/1 of 25 September 2015 (Resolution adopted by the UN General Assembly on 25 September 2015: Transforming our world: the 2030 Agenda for Sustainable Development).
The LDMF Foundation through a PTT First assessment  (by utilizing a systemic perception tool, for the purpose of organization and strategic management of human, natural and artificial phenomena) of the holistic components of the SDG has taken the first step necessary for the development of innovation solutions in the SDG Fields. The intention of the LDMF Foundation is to collaborate with the SDG, as active partner, innovator, solution developer. For example by the design and implementation of PTT primordial algorithms, know how, tools, strategies, that are suitable for the achievement of the SDG.  After careful first assessment, Luis Daniel Maldonado Fonken, creator and developer of PTT Know How, has integrated a list of 22+ SDG, named PTT SDG. (See Chart 01: PTT SDG : Sustainable Development Goals 2030 : PTT First Assessment ).
It is necessary a multi-disciplinary study, research, solution design (primordial algorithms) and technology innovation, for the purpose of application and implementation of PTT Know How in the fields of PTT SDG. (PTT Multidisciplinary Research Collaboration Pool, PTT Primordial Algorithms projects by the LDMF Foundation)
The gamification of this process, will focus on first brining by PTT Know How to a multidisciplinary collaboration pool, and through User Certification (PTT Know How Standard, PTT Licenses), support researchers, technology innovators, SDG entrepreneurs in the implementation of the PTT Solutions Developed. Collaborators of this project agree to take part in the four pillars: Multi-disciplinary research, Self-education (PTT Know How, Standard, User Certification, License), Solution design (PTT Primordial Algorithms), Solution implementation. Gamification will serve the process of collaboration, training and implementation of results.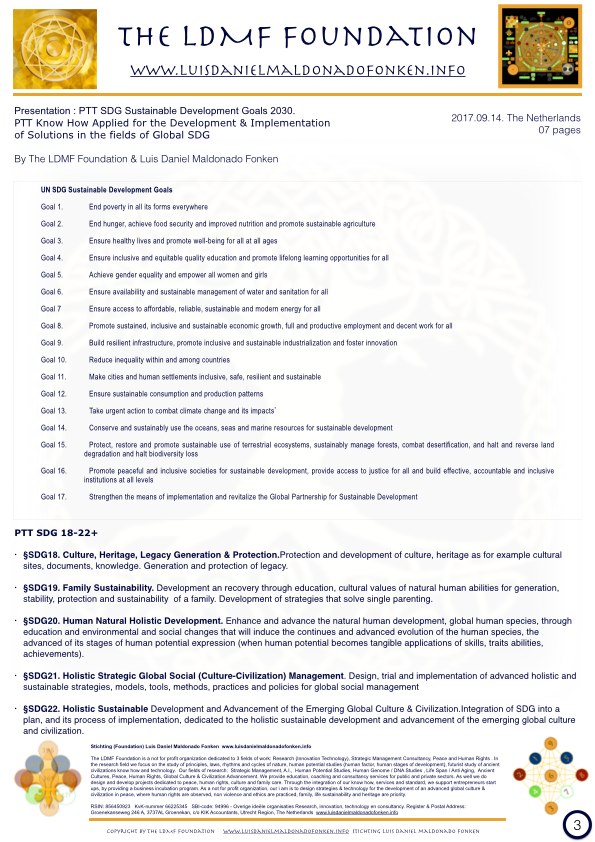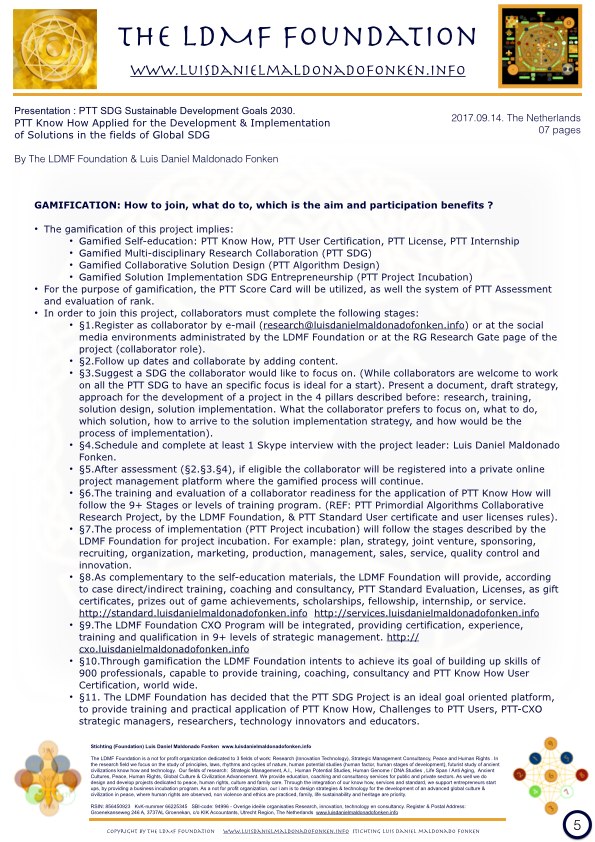 REFERENCES:
CXO Program
http://cxo.luisdanielmaldonadofonken.info
Primordial Algorithms Game
http://primordial-algorithms.luisdanielmaldonadofonken.info
Fundraising: Fellowships & Scholarships
http://fundraising.luisdanielmaldonadofonken.info 
Campaign:  Generasity: Humanitarian Cause
160,462,937.00 USD (135,263,000.00 EUR) https://www.generosity.com/education-fundraising/research-education-non-profit-organization/x/9452563
PTT Multidisciplinary Collaboration Pool
Collaborative Research Project
The LDMF Foundation  www.luisdanielmaldonadofonken.info
ABOUT THE LDMF FOUNDATION
AUTHOR, RESEARCHER
About Luis Daniel Maldonado Fonken
Complete profile at: www.luisdanielmaldonadofonken.info
Mr Luis Daniel Maldonado Fonken is the Founder, Chairman and CEO of the LDMF Foundation. Leader of the Research Project. Developer of the PTT Technology utilized for the project development. In charge of evaluation of candidates to collaborators.
He has been dedicated to Know How Development since 1993, through the study of laws, cycles, rhythms and principles of nature, biohacking, personal development and human potential studies, study of ancient cultures knowledge and technology developed with a futurist, humanist and holistic approach.
Futurist, visionary, humanist and philanthropist.
Business Consultant, Coach and Trainer.
Martial Arts, Yoga, Meditation & Performing Arts Trainer.
With Multidisciplinary studies: Science & Math for engineering, I.T., Business, Education & Personal Development.
His know how has been upgraded since 2000 several times, now known as Primordial Technology Theta, includes assessment tools, strategy and decision making tools, methods for the quantification of value, score card, as well as Training programs for self-management & strategic business management.
The PTT Tools offer to its user the possibility to enhance Matrix-Q Intelligence, a sign of the ability to solve challenges by approaching them through several perspectives simultaneously. Advance Matrix strategic thinking and perception, emotional intelligence, strategic management , self-management and project management skills.,
With experience in business consultancy, and business entrepreneurship, since the year 2000, in countries like Chile, Peru, Switzerland, Italy, Germany, Austria, Russia, Belgium, Finland and The Netherlands.
Mr Luis Daniel Maldonado Fonken is also an author, published more than 360 e-books dedicated to innovation in the field of strategic management, peace & personal development since 2007: The Primordial Technology Theta e-Books Collection (PTT Know How).
Through his know how, he provides tools for the design of new strategies and solutions necessary for the development and advancement of a global culture and civilization.
THE LDMF FOUNDATION
Stichting (Foundation) Luis Daniel Maldonado Fonken
The LDMF Foundation is a not for profit organization dedicated to 3 fields of work: Research (Innovation Technology), Strategic Management Consultancy, Peace and Human Rights .
In the research field we focus on the study of principles, laws, rhythms and cycles of nature, human potential studies (human factor, human stages of development), futurist study of ancient civilizations know how and technology.
Our fields of research: Strategic Management, A.I., Human Potential Studies, Human Genome / DNA Studies , Life Span / Anti Aging, Ancient Cultures, Peace, Human Rights, Global Culture & Civilization Advancement.
We provide education, coaching and consultancy services for public and private sectors.
As well we do design and develop projects dedicated to peace, human rights, culture and family care.
Through the integration of our know how, services and standard, we support entrepreneurs start ups, by providing a business incubation program.
As a not for profit organization, our i am is to design strategies & technology for the development of an advanced global culture & civilization in peace, where human rights are observed, non violence and ethics are practiced, family, life sustainability and heritage are priority.
LDMF FOUNDATION Legal register in The Netherlands. RSIN: 856450923 KvK-nummer 66225345 SBI-code: 94996 — Overige ideële organisaties Research, innovation, technology en consultancy. Register & Postal Address: Groenekanseweg 246 A, 3737AL Groenekan, c/o KIK Accountants, Utrecht Region, The Netherlands www.luisdanielmaldonadofonken.info