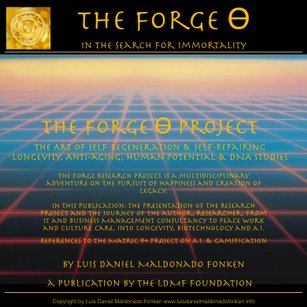 How to separate the water from the wine? My perception is that the only change that matters, for the purpose of legacy and advancement of human culture, civilization and species, is a molecular change, a DNA change that is stable and capable to evolve in time.
The main goal of this project is to identify practices (methods) for antiaging or rejuvenation, that are able to induce a DNA change: through personal development & self-knowledge trainings, as we as through preventive care and health practices.
The mapping of the DNA change achieved through those practices would give advanced information of target for DNA editing and advanced understanding of human immune system and functions of self-regeneration and self-repairing.
For this purpose the study of modern culture and ancient cultures methods (practiced by ancient cultures and traditions of them that still use them) will be necessary.
The Forge Theta
– The Art of Self-Regeneration & Self-Repairing
– Longevity, Anti-aging, Human Potential & DNA Studies
The Forge Research Project is a multidisciplinary adventure on the pursuit of happiness and creation of legacy.
In this publication: The Presentation of the Research Project and the Journey of the author, researcher, from IT and Business Management Consultancy to Peace work and culture care, into Longevity, Biotechnology and A.I.