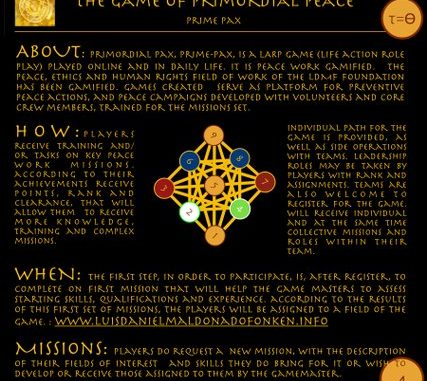 The Peace, Ethics and Human Rights field of research of the Stichting Luis Daniel Maldonado Fonken, focus on the study and development of strategies and technologies to be applied for the care of peace, family, culture, life sustainability, wealth generation, heritage and legacy.
The Prime Pax game, is the gamification of this field of research.
As a foundation, we provide training, coaching, consultancy and assessment on peace, human rights, ethics applied to daily life, organizations, community and family, based on the application of our tools, methods and know how.
We would like to encourage through this page and the publication of the Prime Pax game, that peace workers and peace based organizations, communities and families join the game and play for their own future, cocreate consciously the destiny of human kind.
Follow our articles, presentations and publications reviews on PEACE WORK.
Prime Pax
Gamified Peace Work
ABOUT:
Primordial pax, prime-pax, is a LARP game (Life action role play) played online and in daily life. it is Peace work gamified. the peace, ethics and human rights field of work of the LDMF Foundation has been gamified. games created serve as platform for preventive peace actions, and peace campaigns developed with volunteers and core crew members, trained for the missions set.
HOW:
Players receive training and/or tasks on key peace work missions. according to their achievements receive points, rank and clearance, that will allow them to receive more knowledge, training and complex missions. Individual path for the game is provided, as well as side operations with teams. leadership roles may be taken by players with rank and assignments. teams are also welcome to register for the game. will receive individual and at the same time collective missions and roles within their team.
WHEN:
The first step, in order to participate, is, after register, to complete on first mission that will help the game masters to assess starting skills, qualifications and experience. according to the results of this first set of missions, the players will be assigned to a field of the game.
VISIT PRIME PAX HOME PAGE at the Matrix 9 + Game Generator